Despite its somewhat lighthearted name, double bubble is an unsettling complication that sometimes worries my Montreal breast augmentation patients. This complication generally happens after a breast augmentation surgery in which the implants are placed behind the pectoral muscle rather than in front of it (known as a sub-muscular or an "unders" placement).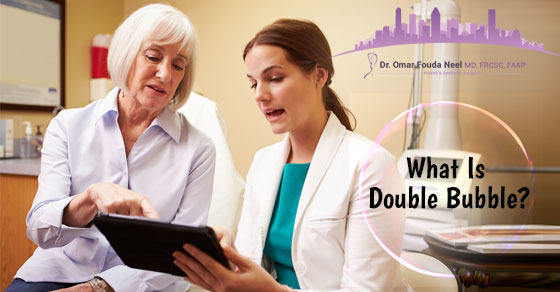 Why does a double bubble develop?
This complication is most likely to occur when the patient already has a significant sagging of the breast tissue or her breasts are tuberous (a congenital abnormality where breasts don't develop normally), when the implants are too heavy and/or not properly placed (IE, they're too high).
If the implant is too heavy or improperly placed, the breast tissue sags below the implant, which creates a look of two separate breast creases. In other words, the implant falls below the breast which produces the double bubble effect. One "bubble" is caused by the breast implant, the other by the breast tissue. This is especially visible when the patient's arms are lifted above the head.
This complication is rare, but when it does happen it can be quite worrisome to the patient. The good news is that it is correctable in most cases.
When does a double bubble occur?
A double bubble can happen at any time after breast augmentation surgery. It can occur over time as breast tissue sustains continued sagging, or it can happen within a few days or weeks after surgery. Most common situations involve an implant is placed inside a young patient's breast and then the effects of aging, gravity, loss of elasticity, weight fluctuations, pregnancy and hormonal changes can cause the natural breast to fall off the implant.
How can a double bubble be prevented?
Placing the implants in front of the muscle is one way of avoiding this complication as this type of placement fills out the sagging skin. As well, doing a breast lift done along with the implant placement helps to decrease the risk of a double bubble.
When a double bubble situation occurs, there are surgical procedures to remedy it. Options include another operation with a breast lift and sub-muscular placement, or removal of implants and the placement of new ones over the muscle.
Patients can also have the breast crease modified: a small incision is made in the crease, and then tightened and raised with suturing along the bottom of the breast. This modification enables the implant to go back to its proper position.
The patient needs to consult with her original plastic surgeon about which double bubble correction surgery is right for her. If the double bubble occurs shortly after the patient's surgery, sometimes doctors advise to wait and see if this situation improves on its own, but if it develops some time after the surgery, usually a corrective surgical intervention is called for.
For more information on how to correct this, contact Dr. Fouda Neel's team today.