Open
Breast Lift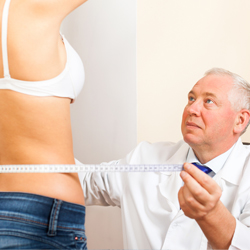 As women get older, their breasts can lose their volume and shape. The aging process, along with the effects of gravity, pregnancy, breastfeeding and weight fluctuations (both gain and loss) have a tendency to make breasts sag, causing them to lose definition and effect women's self-esteem.
But these conditions can be undone and improved through breast lift surgery, also known as mastopexy in Montreal or Riyadh with Dr. Fouda Neel. This procedure will restore and rejuvenate your breasts, giving them a more youthful lift and restoring much-wanted perkiness.
A mastopexy will not only restore the appearance of your chest, but also reduce feelings of embarrassment or self-consciousness about the shape and look of your breasts, leaving you more confident about how you look. The result is a shapelier body, the joy of fitting into clothes better, and a more feminine figure.
Breast Lift by Dr. Fouda Neel
What causes loose or saggy breasts, stretching of the skin and breast tissue atrophy? A condition called breast ptosis, which sees the breast sagging and often empty in the upper pole. This is often the result of significant weight loss or breastfeeding.
Surgical treatment of breast ptosis aims at relocating the areola and nipple in the proper position and tightens the breast tissue while removing the excess loose skin. With important ptosis, the procedure will leave a scar that has the shape of a boat anchor: around the areola, on the breast and below the breast. More moderate ptosis can be treated with a periareolar incision only or with a periareolar and vertical incisions.
Before Surgery
A careful history and physical examination are performed. Breast imaging may be prescribed. Blood thinning medications must be avoided for ten days prior to the procedure.
Type of Anesthesia
The breast lift procedure is usually performed under general anesthesia.
The Surgery
The breast augmentation technique will be adapted to each patient in order to produce the best results. At the end of the surgery, a bra shape dressing made with elastic bands will be applied on the breast. The surgery will last between one hour thirty and two hours and thirty minutes depending on the surgeon who does the surgery and the importance of the ptosis.
After the Surgery
Pain is usually limited. Swelling and bruising are normal for a few days or weeks. The patient will wear a supporting bra for a month. Sutures are often absorbable. Downtime for work is usually about ten days. Sports can be resumed after a couple of months.
Results
The appearance of the breast will take a year to become stable, as the breast tissues need time to heal and become soft again.
Imperfections
Scars can be unpredictable but in most cases scars are well accepted and fade after one year. Scars are still the main drawback of the procedure. Scar revision may be suggested after one year. Breast asymmetry is common because natural breasts are never symmetrical. Operated breast do not heal symmetrically. This is usually minor and well accepted.
Complications
Infection may require antibiotics or drainage.
Bleeding and hematoma formation may require drainage.
Skin necrosis or delayed wound healing.
Decreased sensation of the skin or areola and nipple is usually temporary and recovers over six to twelve months.
Hypertrophic scars may sometimes be corrected with surgical revision after one year.
How much does a breast lift cost?
Visit our Breast Lift Costs page for cost information.
Read about breast lift in Arabic.
Back
Riyadh Clinic
Dr. Omar Fouda Neel, FRCSC, FACS
Prince Muhammad Bin Abdulaziz Rd
Riyadh 12331, Saudi Arabia
+966 59 828 9999

Sunday through Thursday: 10 a.m. to 10 p.m.
Friday and Saturday: 4 p.m. to 10 p.m.
Montreal Clinic
Dr. Omar Fouda Neel, FRCSC, FACS
1620 Avenue de Seaforth
Montréal, QC H3H 1B7
(514) 448-2445

Monday through Friday: 9 a.m. to 5 p.m.