Open
Breast Enhancement Surgery Procedures
Breast Enhancement Surgery Procedures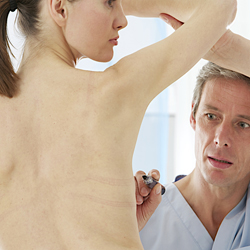 Breast enhancement surgery remains one of the most common procedures carried out at our Montreal clinic. Often after weight loss, aging or childbirth, a woman's breast volume and shape may change. Dr. Fouda Neel performs a number of varied operations to enhance your bust, which may include augmenting, reducing, reshaping and/or lifting the breasts into a more natural position.
There are numerous personal reasons for wanting to undergo breast enhancement surgery. These may center around breasts that are perceived to be under developed; or because of differences in the sizes of the breasts; or from changes after pregnancy or breast-feeding. Some women may be happy with their breasts but just want them made fuller and more proportional to their body type. Regardless of your reasons for considering breast enhancement surgery, it is important to always have realistic expectations. This type of surgery may give you greater self-confidence and add to your sense of well-being, but it is not a guarantee of happiness or better relationships with others.
Related Links
Back
Riyadh Clinic
Dr. Omar Fouda Neel, FRCSC, FACS
Prince Muhammad Bin Abdulaziz Rd
Riyadh 12331, Saudi Arabia
+966 59 828 9999

Sunday through Thursday: 10 a.m. to 10 p.m.
Friday and Saturday: 4 p.m. to 10 p.m.
Montreal Clinic
Dr. Omar Fouda Neel, FRCSC, FACS
1620 Avenue de Seaforth
Montréal, QC H3H 1B7
(514) 448-2445

Monday through Friday: 9 a.m. to 5 p.m.