Open
BodyTite & FaceTite
When men and women develop loose, hanging skin from weight loss, pregnancy, or simple aging, they usually find they can't change their look with topical products or increased workouts. Many people therefore assume the only way to tighten loose skin is with intense surgical intervention. But Montreal patients researching skin tightening who don't want invasive surgery now have an option: BodyTite and FaceTite.
What is BodyTite?
BodyTite is a minimally invasive procedure that combines guided radiofrequency energy with liposuction to break down fat before it's removed, making the procedure less invasive and less traumatic on surrounding tissues. In most cases, BodyTite can be administered with only local anesthesia and sedation, ensuring a speedy recuperation and minimal downtime.
BodyTite is a wonderful alternative to traditional liposuction because its radiofrequency energy also stimulates collagen production, which causes the skin to tighten. BodyTite can effectively treat fat deposits and sagging skin on the following areas of the body:
Abdomen
Waist
Flanks
Hips
Chest
Thighs (inner and outer)
Back or "bra bulge"
Upper arms
BodyTite Before & After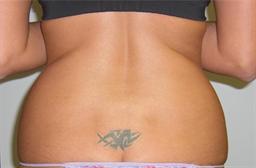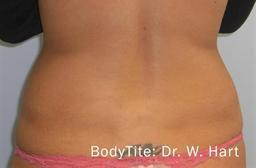 BeforeAfter
This patient is shown before and after BodyTite treatment. For additional patient photos, visit our photo gallery.
What is FaceTite?
FaceTite is essentially a lesser version of BodyTite. Using the same technology, FaceTite emits radiofrequency energy to the external face while an exceptionally thin cannula heats fat beneath the skin and removes it. FaceTite works exceptionally well on the lower face. Its dual approach of fat reduction with skin tightening can improve definition along the jawline, reduce the appearance of a double chin, and add a smooth contour to the upper neck.
How are these procedures performed?
Typically, neither BodyTite nor FaceTite requires general anesthesia. Instead, patients are quite comfortable with local anesthesia enhanced with sedation. The BodyTite and FaceTite devices have 2 distinct parts: the radiofrequency wand and the radiofrequency transmitter. During the procedure, Dr. Fouda Neel makes a very small incision at the treatment site. He then inserts the radiofrequency wand just beneath the skin. At the same time, the external transmitter emits radiofrequency energy. As Dr. Fouda Neel passes the device over your treatment area, it breaks apart fat and heats skin from both inside and outside. The wand also suctions fat away.
Depending on the treatment area, the entire procedure can take between 15 minutes and 1 hour to complete.
FaceTite Before & After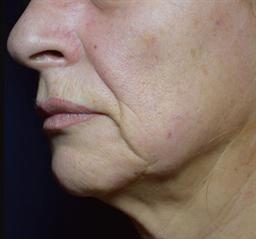 BeforeAfter
This patient is shown before and after FaceTite treatment. For additional patient photos, visit our photo gallery.
What will my results be?
After their treatment, most patients feel well enough to return to work and other light activities the very next day. Swelling and bruising are common elements of the healing process, and Dr. Fouda Neel offers you instructions to minimize these symptoms.
Although the fat reduction results can be immediately appreciated, it can take several weeks for the skin to fully contract and tighten. With time, you can expect to see the treated bulge shrink and the skin around it become tighter and smoother.
Meet with RCPSC-certified plastic surgeon Dr. Fouda Neel to discuss your BodyTite or FaceTite procedure. Request your consultation online or call us to schedule your appointment.
Back
Riyadh Clinic
Dr. Omar Fouda Neel, FRCSC, FACS
Prince Muhammad Bin Abdulaziz Rd
Riyadh 12331, Saudi Arabia
+966 59 828 9999

Sunday through Thursday: 10 a.m. to 10 p.m.
Friday and Saturday: 4 p.m. to 10 p.m.
Montreal Clinic
Dr. Omar Fouda Neel, FRCSC, FACS
1620 Avenue de Seaforth
Montréal, QC H3H 1B7
(514) 448-2445

Monday through Friday: 9 a.m. to 5 p.m.