Open
Brow Lift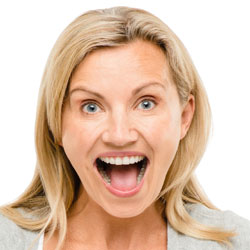 As we get older, deep worry lines can form across our foreheads. These lines can make us appear as if we are angry or tired even when we're in a perfectly great mood. If you've noticed that your eyebrow area and forehead have started to droop, Dr. Fouda Neel can help with brow lift surgery in Montreal.
What is a brow lift?
A brow lift, sometimes referred to as a browplasty, is a cosmetic surgery that aims to fix drooping eyebrows and reduce worry lines that form across your forehead. There are two types of brow lifts and both methods are done to give you a more pleasing and softer appearance. After a brow lift procedure, patients generally appear younger and less stern looking.
What are the two types of brow lifts?
There are two methods used for a brow lift procedure. The surgeries differ slightly because although both make use of incisions, the site and size of said incisions are different.
Classic lift: This is where one continuous incision is made starting at the ears and moves up around your hairline. The incision site is usually hidden within your hairline so that no scarring will be visible to the naked eye.
Endoscopic lift: During this procedure, smaller incisions are made in your scalp. A scope, which is a small camera that sits on the end of a thin tube, is inserted at the incisions sites to better see the muscles and tissues that need to be adjusted during your brow lift. Like the classic lift, incisions are hidden.
Both the classic and endoscopic brow lift will create a softer, younger look. When you meet with Dr. Fouda Neel for your consultation, each procedure will be explained in detail before he determines which one is best suited to address your needs.
What are the benefits of a brow lift?
If you are plagued with drooping, angry looking eyes, you know all too well how uncomfortable and harsh you may appear. Besides altering your appearance to make you look less severe and younger, a brow lift has many benefits:
Rejuvenates your forehead
Increases your self-confidence
Eases tension in your forehead muscles
A brow lift can even better position your eyebrows and create a more appealing eyebrow shape that complements and enhances your facial features. Many patients pair their brow lift procedure with a facelift or eyelid surgery.
This procedure can be done on men and women alike and is usually performed on those who are over 40. For the most part, the under-40 set's skin is still taught in the forehead area and does not yet need an enhancement to make them appear more energetic.
How long until I can see the results of my procedure?
A brow lift produces natural looking results. Immediately following your procedure the area will swell and possibly bruise. However, once these effects subside after a week or two – depending on how fast your body heals – you will notice your new, more appealing brows.
A brow lift can last up to 10 years if you remain in good shape and take care of yourself. Maintain a healthy diet and active lifestyle and you can look younger and feel great for years to come.
How much does a brow lift cost?
Visit our Eyelid Surgery Costs page for cost information about brow lifts and eyelid surgery.
Back
Riyadh Clinic
Dr. Omar Fouda Neel, FRCSC, FACS
Prince Muhammad Bin Abdulaziz Rd
Riyadh 12331, Saudi Arabia
+966 59 828 9999

Sunday through Thursday: 10 a.m. to 10 p.m.
Friday and Saturday: 4 p.m. to 10 p.m.
Montreal Clinic
Dr. Omar Fouda Neel, FRCSC, FACS
1620 Avenue de Seaforth
Montréal, QC H3H 1B7
(514) 448-2445

Monday through Friday: 9 a.m. to 5 p.m.