Open
Breast Augmentation
Women visit Dr. Fouda Neel for breast augmentation in Montreal and Riyadh for many reasons. Some women with naturally small breasts wish to have them enhanced. In other cases, women's breasts lose volume after pregnancy, breastfeeding, or weight loss. These women also wish to have their breasts enhanced. Through breast augmentation, Dr. Fouda Neel can provide you with the full, beautiful, natural-looking breasts you want.
To meet with RCPSC-certified plastic surgeon Dr. Fouda Neel in Montreal or Riyadh and find out how breast augmentation can improve your appearance, request a consultation online or call our office at (514) 448-2445. Women visit him for breast augmentation in Montreal from throughout southern Quebec. At his location in Riyadh, he serves patients from Saudi Arabia and Dubai.
Breast Augmentation Before & After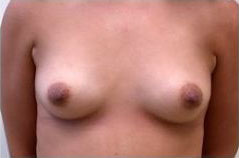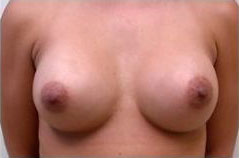 Before                                                             After
This patient is shown before and after Dr. Fouda Neel performed breast augmentation with round silicone gel breast implants. For additional patient photos, visit our photo gallery.
What is breast augmentation?
Breast augmentation is an aesthetic surgery procedure that adds volume to the breasts and reshapes them. Dr. Fouda Neel can perform this procedure using saline or silicone breast implants, as well as fat transfer. Your preferences and anatomy will determine the type of augmentation best suited for you.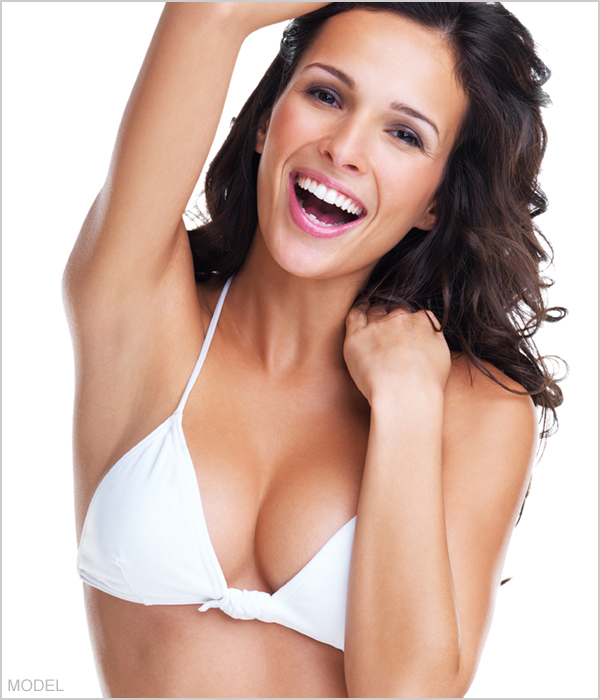 What are the benefits of breast augmentation?
In addition to improving your self-confidence and body image, breast augmentation has many other benefits:
Increasing the fullness of your breasts and how they project from your body
Balancing size and shape when breasts are uneven
Replacing or repairing one or both breasts after injury or mastectomy
Returning breasts to the size they were before breastfeeding or major weight loss
During your consultation, Dr. Fouda Neel will allow plenty of time to discuss the improvements you'd like to see and then thoroughly explain the procedures needed to get you there. If your breasts sag, you may need a combination breast lift, and augmentation. You may choose to maximize your improvement and minimize your downtime by combining breast augmentation with other cosmetic procedures such as a tummy tuck and liposuction. This personalized set of procedures often called a mommy makeover is designed to restore your pre-pregnancy shape.
What should I know about choosing breast implants?
To fit the unique anatomy and preferences of each patient, Dr. Fouda Neel offers a variety of implant choices. He will explain the following implant decisions and help you choose the combination that is right for you:
Size: While breast implants come in a wide range of sizes, final breast size is determined by accounting for the amount of existing breast tissue and the implant size.
Material: While all breast implants have a flexible silicone outer shell, there are 2 types of fill material: saline and silicone (see question below).
Shape: Implants come in 2 shapes: round and anatomical (also called shaped, or teardrop). Round implants add all over fullness including the upper breast and cleavage. Anatomical implants follow a natural sloping breast shape that is fuller at the bottom and tapered with less fullness at the top.
Profile: Ranging in general from low to high, implant profile accounts for the width and projection of the implant.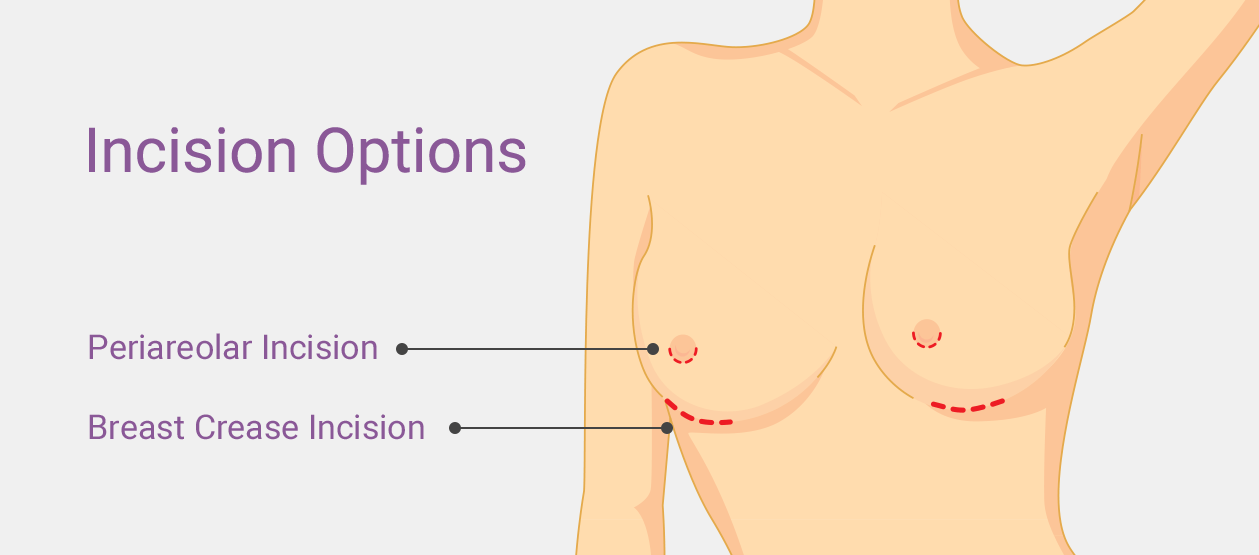 What is the difference between saline and silicone breast implants?
Dr. Fouda Neel offers silicone and saline breast implants at his Montreal and Riyadh clinic that are safe and approved by Health Canada. It's important to understand the differences between these types of implants:
Saline implants are filled with sterilized salt water. If any problem should cause the implant to collapse, the saline will be absorbed and expelled by the body with no adverse effects to your health. This type of implant is filled after it is placed in the body, which allows for a smaller incision than a silicone implant. Saline implants are also generally less expensive than silicone.
Silicone implants contain cohesive silicone gel that patients often say feels more like natural breast tissue than saline implants. Because they maintain their form, these implants are available in a greater variety of shapes and sizes. Silicone implants are generally more expensive than saline.
The choice between silicone and saline is primarily one of personal preference, although cost is also a consideration. Dr. Fouda Neel will allow you to handle sample implants of each type and help you decide on the type that is best suited to your body and desired results.
How is breast augmentation performed?
During breast augmentation, Dr. Fouda Neel begins the surgery by making an incision along the breast crease or around the lower portion of the areola of each breast. He then inserts a breast implant behind the breast tissue (called subglandular placement) or behind the chest muscle (called submuscular placement) after creating a space for your implants (called the pocket). Once he is satisfied that the size and shape of your new breasts match the desired aesthetic results, he closes the incisions with absorbable sutures and covers the area with surgical tape.
When will I see the results of my procedure?
After breast augmentation, your breasts will be fuller and more shapely. In that sense, results are visible right away. As soon as the initial swelling caused by the surgery fades, you will more clearly see the results of your procedure. The incisions made during the surgery typically fade to fine scars over the months that follow.
What happens during the breast augmentation recovery process?
After breast augmentation, you may experience swelling and bruising around your breasts. Prescription pain medication can help alleviate discomfort if needed. You will be asked to wear a compression bandage or sports bra to give your chest extra support while you heal.
Generally, most patients can resume their normal activities, including work and school, within 1 to 2 weeks. You will be asked to abstain from vigorous activities and heavy lifting for about 6 weeks.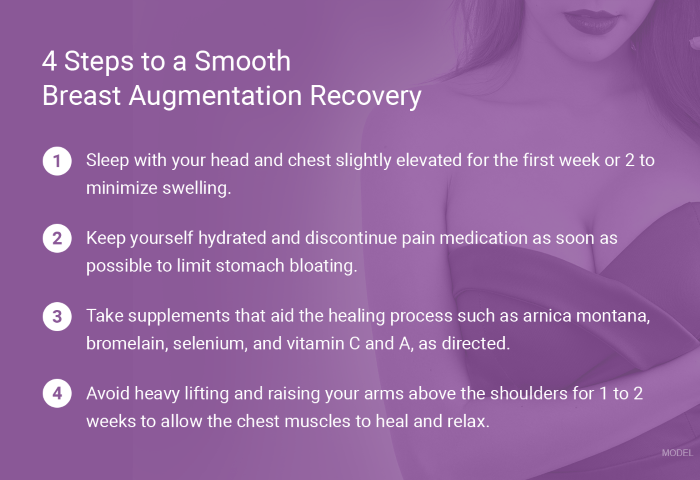 Can I have breast augmentation without implants?
Women who are interested in a minor increase of about a cup size may be candidates for natural breast augmentation with fat transfer. Because the patient's own fat is used to enhance the breasts, the patient must have enough excess fat to be transferred. Dr. Fouda Neel uses liposuction to harvest fat from the belly, thighs, hips, or other areas it's not wanted. He takes special care to keep as many fat cells undamaged and alive as possible. He purifies the fat and then injects it into the breasts. Because only about 60 to 70% of the transferred fat integrates to its new location, the breasts are fuller than desired initially in anticipation of some loss. While this technique provides a subtle enhancement, patients appreciate a natural alternative to implants, as well as the fat reduction.
How much does breast augmentation cost?
The cost for breast augmentation in Montreal or Riyadh depends on the implants you choose, the surgical technique, and other factors. Visit our Breast Augmentation Costs page for more information.
While cost is a necessary consideration, your safety and the quality of your results is paramount — and that depends on the skill and experience of your plastic surgeon. Dr. Fouda Neel is a Fellow of the Royal College of Physicians and Surgeons of Canada, under the specialty of plastic surgery. He has extensive experience performing breast enhancement procedures for a variety of patients.
Read about breast augmentation in Arabic.
From the Blog
Related Breast Augmentation© Blog Posts
Having advanced technology in the palms of our hands allows us to browse and research whatever our hearts desire at a moment's notice. But that easily accessible information comes at a price. Often, it can leave you feeling overwhelmed and "spoiled for choice," especially if you're trying to plan a plastic surgery procedure. If you're ... read more
When I talk to women considering breast augmentation in Laval or Montreal, many explain they want to improve their contour but don't want their breasts to look surgically enhanced. Others are simply seeking an all-natural solution that doesn't involve implants. I appreciate these patients' inquiries and always explain that breast implants have come a long way ... read more
Breast augmentation has helped thousands of Montreal women achieve their ideal physique, but many people still have the misconception that breast implants rarely look natural after the augmentation process is complete. In this article, we'll look at the techniques that board-certified plastic surgeons, like myself, use to ensure breast implants look as natural as possible on every ... read more
Back
Riyadh Clinic
Dr. Omar Fouda Neel, FRCSC, FACS
Prince Muhammad Bin Abdulaziz Rd
Riyadh 12331, Saudi Arabia
+966 59 828 9999

Sunday through Thursday: 10 a.m. to 10 p.m.
Friday and Saturday: 4 p.m. to 10 p.m.
Montreal Clinic
Dr. Omar Fouda Neel, FRCSC, FACS
1620 Avenue de Seaforth
Montréal, QC H3H 1B7
(514) 448-2445

Monday through Friday: 9 a.m. to 5 p.m.