Open
Mommy Makeover Procedures
Mommy Makeover Procedures
Regain Your Physique and Your Confidence with a Mommy Makeover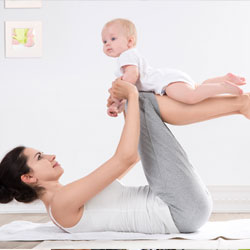 Women can experience a number of drastic physical changes following pregnancy. Many women find it difficult to regain their pre-pregnancy physique, even with regular diet and exercise. If you wish to tone and reshape your body after your baby is born, a mommy makeover may help you achieve your goals. Montreal and Riyadh plastic surgeon Dr. Fouda Neel has the experience and artistic expertise to create a comprehensive makeover plan combining tummy tuck, liposuction, breast lift, and other procedures.
Mommy Makeover Procedure Options
A mommy makeover is a comprehensive plan that helps women take control of their appearance and regain their confidence. Mommy makeovers may include any number of plastic surgeries, including:
The Beauty of Combining Treatments
A mommy makeover plan can be more cost effective and efficient than several individual treatments performed separately. By undergoing more than one treatment at once, our cosmetic surgery  patients avoid paying certain surgical costs, such as anesthesia, more than once.
By addressing several goals at once, mommy makeover surgeon Dr. Fouda Neel can provide better comprehensive results. In many cases, one surgery may enhance the results of another surgery. A tummy tuck, for example, can complement a breast lift for an even more dramatic aesthetic enhancement.
One of the greatest benefits of mommy makeover plans is that recovery time is consolidated. Aesthetic surgery patients can achieve multiple aesthetic goals without extended time off of work and other activities. For example, during the month of recovery required for a tummy tuck, patients can concurrently recover from a breast augmentation and liposuction.
Who is the Ideal Candidate for Mommy Makeover Surgery?
Mothers who give birth but find that they're not happy with how their body currently looks are the prime candidates for a mommy makeover. These unwanted post-pregnancy changes often include breasts that sag and are different size than their pre-pregnancy breasts, as well as loosened skin around the stomach. The result of these post-birth developments can cause an impaired sense of self-esteem and self-confidence in their body. Thankfully, a mommy makeover in Montreal or Riyadh by Dr. Fouda Neel can undo these changes and help you get your body back.
What are the Benefits of a Mommy Makeover?
A mommy makeover will not only restore the look and shape of your body to what it was before giving birth, but will also provide a big boost to your emotional health and self-confidence.
What Results Can I Expect After a Mommy Makeover?
Patients will see major improvements to their breasts as well as their stomach. Breasts will have their old shape and positioning restored, while stomachs will be flatter. Clothes you wore pre-birth will once again fit as they did before!
Are there any Possible Complications?
Complications from a mommy makeover surgery are not common, but can sometimes occur. In some cases patients experience bleeding and other side effects.
Back
Riyadh Clinic
Dr. Omar Fouda Neel, FRCSC, FACS
Prince Muhammad Bin Abdulaziz Rd
Riyadh 12331, Saudi Arabia
+966 59 828 9999

Sunday through Thursday: 10 a.m. to 10 p.m.
Friday and Saturday: 4 p.m. to 10 p.m.
Montreal Clinic
Dr. Omar Fouda Neel, FRCSC, FACS
1620 Avenue de Seaforth
Montréal, QC H3H 1B7
(514) 448-2445

Monday through Friday: 9 a.m. to 5 p.m.