Open
Skin Treatment Procedures
Skin Treatment Procedures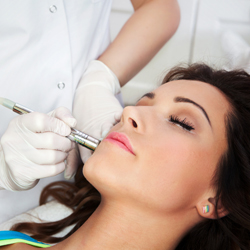 To perfectly beautify your skin, a single or combination treatment approach might be necessary.
Dr. Fouda Neel is an expert in the field of skin rejuvenation and after assessment will advice you on the best way to take care of your precious skin through his non-surgical skin care approach.
Thermage Skin Tightening
What is Thermage?
Thermage is the only non-invasive procedure that helps tighten and contour your skin in a single treatment—with no surgery, no injections, and little to no downtime. Instead, Thermage stimulates your body's natural renewal of collagen, which creates subtle, natural looking results on and off the face, like…
Tighter, smoother skin…
Softened wrinkles and lines…
And an overall younger looking appearance.
So people won't think you've been away at surgery. They'll think you've been away on vacation.
How does Thermage Skin Tightening work?
Thermage uses unique radiofrequency (RF) technology to safely heat the deep layers of your skin, while cooling the surface of your skin to keep it intact during the procedure.
This deep heating stimulates your body's natural skin renewal process, which helps tighten existing collagen and form new collagen. Over time, sagging or wrinkled skin is replaced with smoother, tighter skin; improved tone and texture; and an overall younger looking appearance.
Is Thermage right for you?
When it comes to skin tightening and contouring, some people want the dramatic results of surgery. Others want the more gradual, natural looking results of a non-invasive treatment with little to no downtime.
That's why they choose Thermage. It helps improve skin tone, texture and tightness for a younger looking appearance—and it does so in one easy treatment. So easy that you can get the procedure on your lunch hour and quickly return to work, family or other activities—looking and feeling great. Now that's something worth celebrating.
Clinical Peels
Regularly exfoliating the skin is important in maintaining healthy, glowing skin. New skin cells are created in the skin's lower layer, the dermis. Over time, cells migrate to the surface of the skin and become more acidic. As we age the natural process of skin erosion becomes uneven, which gives skin a dry and rough character. Exfoliation removes the outer layer to reveal the newer skin beneath. This shedding of the outer layer unclogs pores, refines texture, reduces fine lines and helps reduce acne breakouts. This is important for men as it exposes the hair follicles, allowing for a better shave.
Exfoliation involves the removal of the oldest dead skin cells on the skin's outermost surface, and has been used for many years to help maintain the skin. Exfoliation can be achieved through mechanical or chemical means. Examples of mechanical exfoliation would be a facial scrub or microdermabrasion. Examples of chemical exfoliation would be a chemical peel or enzyme mask. Many believe chemical exfoliation is a better choice when it comes to exfoliating as it produces a more even exfoliation and can achieve deeper exfoliation in a more gentle fashion. Chemical exfoliation is also a better choice when treating acne as mechanical exfoliation can spread the bacteria that causes acne over the skins surface.
Our clinical-strength chemical peels provide effective, even exfoliation to remove the dull, dry top layer of skin and reveal the smooth, vibrant skin below. We offer options formulated for common concerns such as aging, sun damage, and acne, which are personalized to the individual's needs and desired downtime. To learn more, visit our Chemical Peels page.
Skin Care
Good skin care is designed to maximize skin health and is an integral part of healthy looking skin. Home skin care products alone, or in conjunction with office procedures promote healthy, smooth, younger looking skin. Let us help you sort through the science of skin care and get you headed towards a radiant complexion.
Skin protection: One of the best ways to prevent and avoid skin damage is to wear sunscreen. Sunscreen helps reduce damage to the cells in our skin that lead to wrinkles, age spots and skin cancer.
There is only a slight bit less UV in the winter than in the summer so apply sunscreen year-round.
Our clinic carries only the finest medical grade skin care products sold exclusively to physicians. These products are dye and fragrance free and contain a higher percentage of active ingredients to give you noticeable results.
To learn more about Vivier and Obagi products and to find out which products would work best for you, book your skin consultation today with Dr. Fouda Neel.


How much do treatments cost?
Visit our Fees and Finances page for cost information.
Back
Riyadh Clinic
Dr. Omar Fouda Neel, FRCSC, FACS
Prince Muhammad Bin Abdulaziz Rd
Riyadh 12331, Saudi Arabia
+966 59 828 9999

Sunday through Thursday: 10 a.m. to 10 p.m.
Friday and Saturday: 4 p.m. to 10 p.m.
Montreal Clinic
Dr. Omar Fouda Neel, FRCSC, FACS
1620 Avenue de Seaforth
Montréal, QC H3H 1B7
(514) 448-2445

Monday through Friday: 9 a.m. to 5 p.m.