Open
Otoplasty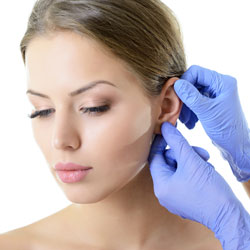 Sometimes during the body's development, the ears grow to be too large or prominent in relation to the rest of the head. This often results in self-consciousness and embarrassment for both children and adults alike.
However, people living with these conditions don't need to suffer, as Dr. Fouda Neel can make the ears more proportional – and appealing – through ear surgery, also called otoplasty, in Montreal. This procedure results in better-sized ears and a boost to your self-image.
Otoplasty (surgery of the ears) is mostly done to set prominent ears closer to the head. Prominent ears are usually a genetically inherited problem with the ears protruding too far from the head. Otoplasty ear surgery is commonly performed on children as well as adults.
Before the otoplasty surgery
There are generally two different anatomic problems that cause this to occur. The first is extra excessive ear cartilage pushing the ear forward and out; and the second is usually the lack of a normal ear cartilage fold that normally holds the ear back. Patients may have one or both combinations of problems. Both must be corrected surgically unless the patient is less than a few days old when moulding and splinting can still correct it.
In general the goal of an otoplasty "ear pinning" surgery is to create ears that are in balance with the rest of the face. Its effects are often permanent.
Before the aesthetic surgery, a preoperative ear assessment will be realized by the surgeon in to order to analyse which modifications need to be done. Any medicine containing aspirin should not be taken within 10 days before the operation. Depending on the type of anesthesia, it might be essential to remain fasting (no food or drink) 6 hours before surgery.
Type of anesthesia
Pure local anesthesia, for which an analgesic product is locally injected to ensure the insensitivity of the ears.
Local anesthetic by tranquilizers administered intravenously.
Classic general anesthesia during which the patient is completely asleep.
The choice between these different techniques will be the result of a discussion between you, the anesthesiologist and surgeon. Surgery is usually done on an outpatient basis.
The surgery
During otoplasty procedure your Montreal aesthetic surgeon Dr. Fouda Neel will make an incision is made behind the ear in the crease where the ear meets the head. From this incision the extra cartilage can be removed and the missing fold in the cartilage can be recreated, if needed. The wound is then sutured closed and dressed with a head dressing for one week. The dressing can then be removed and the ears examined. Care must be taken not to actively pull the ear back out and recreate the corrected problem.
Otoplasty surgery is usually done on an outpatient basis. You will feel discomfort, but any pain can be controlled with medication. You can expect your ears to be swollen and ache and this can last for a few weeks. Your surgeon will give you specific recovery instructions but usually you will be asked to rest for the first week. You will probably be instructed not to participate in strenuous activities for 2 to 4 weeks.
Technique:
Skin incisions are performed behind the ear.
Skin is undermined to expose the underlying cartilage.
The ear cartilages will be scored and tailored to improve the shape and contour. Sutures are used.
Stitches are absorbable and do not need to be removed.
A dressing will be applied to protect the ears for one week.
Duration of the procedure is between one and two hours.
How old do I have to be to undergo otoplasty?
Too-large ears or ears that stick out from the head too much can affect people of all ages. Otoplasty is an option for anyone with these problems, so long as their ears have finished growing. This stage is generally reached after the age of 5 or 6. In fact, otoplasty performed on children is not as uncommon as many people think, as disproportionate ears can be a source of stress for children. Both children and adults can improve their self-confidence by having otoplasty.
After the surgery
Pain is very mild. The dressing will be removed at the end of the first week. The ears will appear swollen and bruised. A hand band will then be worn for two additional weeks. Showering is allowed at the end of the first week. Contact sports must be avoided. Cold hypersensitivity is common for a few months.
Results
A few months of healing are necessary before results are stable. Scars will remain pink for about six months. The new shape of the ear is usually permanent but slight recurrence of the deformity is possible.
Imperfections
Mild asymmetry, palpable or visible sutures, foreign body granulomas are possible. Scars may stretch but are usually hidden by the ear.
Complications
Complications are rare but remain possible.
Bleeding and hematoma: If significant, may require secondary surgery to prevent problems.
Skin necrosis: Secondary healing will then occur over weeks but can leave a scar.
Abnormal scarring.
How much does otoplasty cost?
Visit our Fees and Finances page for cost information.
Back
Riyadh Clinic
Dr. Omar Fouda Neel, FRCSC, FACS
Prince Muhammad Bin Abdulaziz Rd
Riyadh 12331, Saudi Arabia
+966 59 828 9999

Sunday through Thursday: 10 a.m. to 10 p.m.
Friday and Saturday: 4 p.m. to 10 p.m.
Montreal Clinic
Dr. Omar Fouda Neel, FRCSC, FACS
1620 Avenue de Seaforth
Montréal, QC H3H 1B7
(514) 448-2445

Monday through Friday: 9 a.m. to 5 p.m.