Open
Facial Fillers & Injectables
Facial Fillers & Injectables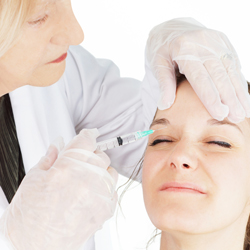 The skin the face is one of the most noticeable areas to show the signs of aging. It's an unfortunate fact of life, but as our skin gets older it develops wrinkles and unwanted lines. It will also lose some of its texture and volume, as most commonly seen in areas such as the lips, cheeks, and eyes.
However, help is at hand. Dr. Fouda Neel can push back the aging process using injectable facial fillers, such as JUVÉDERM® and Restylane®, and PRP treatments at his Montreal centre
What can JUVÉDERM do?
If you're looking to restore some smoothness and body to your face, the JUVÉDERM collection of fillers can help. Options include JUVÉDERM® VOLIFT®, VOLUMA®, and VOLBELLA® each formulated to provide specific improvements. In Montreal, Dr. Fouda Neel offers a JUVÉDERM filler that will smooth out your skin, wipe away wrinkles, sculpt your lips, add contour to your cheeks, and more. The result is bringing out and enhancing the natural beauty of your face without cosmetic surgery.
Unlike collagen injections, this type of non-surgical facial rejuvenation relies on a natural substance to restore vitality and youthfulness to your face. In addition to its cosmetic benefits, it does not have a risk of infection. There is a small risk of complications such as bruising and swelling, and minor pain or headaches.
What can Restylane do?
Another option to undo the effects of wrinkles and other signs of facial aging is the Restylane collection of dermal fillers. Options provide specific benefits and include Restylane Refyne™, Defyne™, Volyme™, and Kysse™. These fillers give our Montreal patients a simple way to smooth out wrinkles, enhance lips, and add volume to the cheeks. Possible side effects include redness and swelling, and full details will be discussed in your consultation with Dr. Fouda Neel.
What is a Vampire Facelift?
A Vampire Facelift, also called a PRP treatment, involves blood drawn from your body being injected into your face. This anti-aging technique may sound odd, but it is an effective treatment of wrinkles around the eyes, lips, mouth, and marionette lines. Because the blood is drawn from your own body, there are minimal side effects, such as irritation and swelling.
Whether you're looking for non-surgical facial rejuvenation like the Vampire Facelift or a facial filler such as JUVÉDERM, you can contact the office of Dr. Fouda Neel to discuss your options today!
Frequently Asked Questions
Who performs the treatment?
Dr. Fouda Neel personally administers the injections after consulting with you. After discussing your specific concerns and the areas that will be best treated with dermal fillers, Dr. Fouda Neel creates a customized treatment plan. First, we use numbing cream to make the filler injections almost painless. Dr. Fouda Neel then uses a tiny needle for the procedure.
What's the difference between botulinum-based wrinkle smoothers and dermal fillers?
Dermal fillers are designed to add volume to the face in specific areas. Botulinum-based wrinkle-smoothing injectables such as BOTOX COSMETIC® and Dysport Aesthetic™ are designed to reduce the amount of movement in the muscles that contribute to dynamic wrinkles. Also, dermal fillers tend to last a bit longer for most patients than other treatments that temporarily inhibit muscle movement.
What can dermal fillers treat?
Dermal fillers can treat a variety of skin imperfections of the face, including marionette lines, smile lines, and thin or wrinkled lips. Newer fillers are proving very useful in adding volume to the cheeks. The best way to find out how dermal fillers can help you improve your facial appearance is to speak with Dr. Fouda Neel, who can create a treatment plan best suited for your concerns.
How much do facial filler and PRP treatments cost?
Visit our Fees and Finances page for cost information.
Are you ready to learn more?
Women and men visit Dr. Fouda Neel for non-surgical facial rejuvenation with the Vampire Facelift and facial fillers such as JUVÉDERM and Restylane from Ottawa, Laval, and the surrounding area. For more information, please request a consultation online or call our office at (514) 448-2445.
Read about facial fillers and other injectables in Arabic.
Back
Riyadh Clinic
Dr. Omar Fouda Neel, FRCSC, FACS
Prince Muhammad Bin Abdulaziz Rd
Riyadh 12331, Saudi Arabia
+966 59 828 9999

Sunday through Thursday: 10 a.m. to 10 p.m.
Friday and Saturday: 4 p.m. to 10 p.m.
Montreal Clinic
Dr. Omar Fouda Neel, FRCSC, FACS
1620 Avenue de Seaforth
Montréal, QC H3H 1B7
(514) 448-2445

Monday through Friday: 9 a.m. to 5 p.m.