Open
Thigh Lift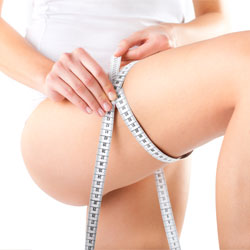 Sagging skin often remains after a patient has worked very hard to lose a great deal of weight. The best way to remove this excess skin is through surgery, as once stretched, the skin may not return to a normal contour. A thigh lift is a surgical procedure performed to eliminate this excess fat and skin around the inner thighs.
A thigh lift can be performed in Montreal on any healthy adult who has lost all the weight they intend to lose. Some superficial fat can be removed before the actual thigh lift through liposuction.
Before the surgery
Your surgeon will discuss the risks and benefits of a thigh lift procedure at your consultation to confirm that this is the best course of action for your particular needs.
Type of anesthesia
A thigh lift is performed under general anesthesia as an outpatient basis.
The surgery
During the procedure, an incision is made along the inner fold of the thigh to minimize scarring. The excess skin and superficial fat is pulled tight and removed to create a smooth skin surface. In patients who have lost a more significant amount of weight after gastric bypass or banding a vertical incision may be made along the inner thigh. These surgeries generally require about 2-4 hours to complete, depending upon the amount of skin removed.
After the surgery
Following a thigh lift, you should plan to take one to three weeks off from work and normal activities and rest as much as possible to reduce motion in the area of the sutures. We will provide you with pain medications to take after you return home. You will need to avoid strenuous activities for at least six weeks. You will find that the scar will always be somewhat visible but will fade over time to a fine line.
Results
An improvement of the contour of the thigh is clearly visible after six to twelve months of healing.
Imperfections
Scars can be conspicuous or can migrate with gravity. This can pull the vulva downwards.
Moderate asymmetries can be seen.
Touch up scan sometimes is considered, but never before six months.
Complications
Deep venous thrombosis and pulmonary embolism are possible even if appropriate preventive measures are taken.
A hematoma may occur and required evacuation.
Infection is possible.
Lymphatic fluid drainage can be seen and usually resolves spontaneously.
Skin necrosis and wound breakdown are possible.
Decreased skin sensation is possible but usually improves over months.
How much does thigh lift surgery cost?
Visit our Fees and Finances page for cost information.
Read about thigh lift surgery in Arabic.
Back
Riyadh Clinic
Dr. Omar Fouda Neel, FRCSC, FACS
Prince Muhammad Bin Abdulaziz Rd
Riyadh 12331, Saudi Arabia
+966 59 828 9999

Sunday through Thursday: 10 a.m. to 10 p.m.
Friday and Saturday: 4 p.m. to 10 p.m.
Montreal Clinic
Dr. Omar Fouda Neel, FRCSC, FACS
1620 Avenue de Seaforth
Montréal, QC H3H 1B7
(514) 448-2445

Monday through Friday: 9 a.m. to 5 p.m.