Recovering from cosmetic surgery can be challenging if, in addition to taking time to heal properly, you also have to shoulder the responsibility of taking care of children.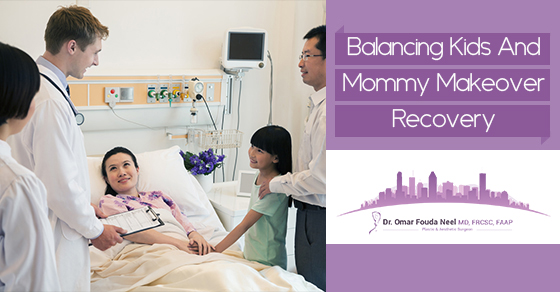 The challenge becomes exponentially greater if your recovery post-surgery lasts weeks rather than days. As a patient, you owe it to yourself to know ahead of time how to do the juggling act of recovering from the surgery while ensuring that your children's needs are adequately met.
What is a Mommy Makeover?
A mommy makeover is made up of a number of different surgical procedures that can help you to regain the figure you had before you had children. In terms of popular mommy makeover surgical procedures, the ones that most women are interested in include breast augmentation, breast lift, and tummy tuck.
Recovery Time
Since a mommy makeover will consist of numerous cosmetic surgeries, you won't be able to get a precise idea of how long recovery will take until you consult with a professional who can factor in the various procedures and arrive at a number you can work with. If you get breast surgery, you might have to wear a surgical bra during the recovery period, and a tummy tuck procedure might necessitate that you use an abdominal binder to provide support and keep swelling in check.
While different cosmetic surgery procedures might require that you use or wear certain items, you can expect to fully recover within about a month and a half, and you may be able to get back to your regular routine within a few weeks. However, it's important to be sure to honor your doctor's instructions in order to avoid unnecessary complications.
Taking Care of Kids
Recovering and taking care of children is a daunting task. While you might not be able to lift up your little ones during the recovery stage, there are lots of things you can still do, such as provide emotional support to them in their daily activities. However, it is essential that you have help available and ready at all points of the day.
You'll be unable to lift the children, bathe them, and do other tasks that take physical mobility and energy. Plan to have people you trust pick up your children from school, give them their baths, and fill in in other areas when you can't. This takes planning ahead of time, preparing what is necessary, and having great communication with your temporary caregiver.
Also, ensure that your kids (particularly the older ones) understand the situation and realize that they may have to exert some independence during your recovery period. You might be surprised to see how responsible they are when given the chance.
You can definitely have a mommy makeover and, post-procedure, take care of your kids. With some planning and a little bit of outside help, your little ones will be well cared for while mommy recovers from her procedure!