When you undergo an arm lift or a thigh lift, you need to take care that you do not do any excessive exercise post-surgery that will compromise the healing process. It is important to follow the advice of your surgeon and ensure that you do not injure yourself. The problem is that if you wait too long to exercise, you may damage your wounds and slow down the healing process. If you wait too long, your muscles may become weaker from the lack of use. You must listen to your body and talk to your surgeon about when is the most appropriate time to start exercising.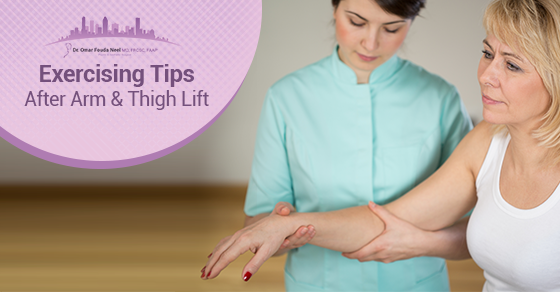 After an Arm Surgery:
Don't carry excessive weight;
Don't do sports that include carrying a heavy object (bowling)
Don't do sports that require significant arm movements (tennis)
Do gentle arm movements and exercise such as walking because walking will increase your cardiovascular health and reduce your chances of developing blood clots in your lower limbs;
Once healing is complete, it is okay to undertake more aggressive physical exercise;
When you have a thigh lift surgery, the healing process can be quite lengthy. You should know that you are going to feel very sore and tired after your surgery. You will also have some discomfort and swelling in the area where the surgery was performed. Pain and swelling are manageable with medication prescribed by your doctor. You will probably need to use a compress dressing for a week post-surgery.
After your thigh lift:
Avoid strenuous movements or any heavy lifting for about six weeks
Do not participate in high-impact activities such as wakeboarding or skiing for 6 – 8 weeks
Resume normal physical activity (light) such as walking or jogging one month post-surgery
Resume all activities including high impact activities two months post-surgery
A lot of people believe that they need to rest a lot after surgery. While this is true for the first couple of weeks, you should walk a little bit or move around to get the blood flowing in the body. When you sit around too much, it can cause blood clots to form, and this can be very dangerous, even fatal. Return to exercise should be gradual, but with the guidance of your surgeon, you can get back to regular levels after a few short months. It is important to continue to check in with your doctor once your surgery has been done, so that you get the best possible after surgery care.