Motherhood brings joyful changes into a woman's life, but the progression of pregnancy, breastfeeding, and child care often cause significant changes to your physical appearance. Your post-pregnancy physiological changes can negatively affect self-esteem and confidence levels.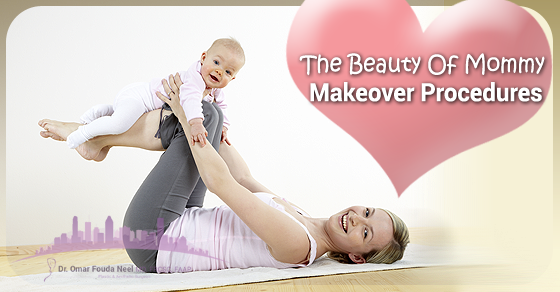 For this reason, Dr. Fouda Neel offers mommy makeover procedures in order to address post-pregnancy concerns.
In the latest statistics, 20% of plastic surgery patients receive mommy makeover procedures. The ideal candidate is a woman who is in good general health and near her desired post-pregnancy weight. Additionally, patients should also have completed breast feeding and be at least 3 to 6 months post-delivery if she is considering tummy enhancement.
A mommy makeover typically consists of a combination of procedures that are individually customized to address each patient's unique concerns. Common mommy makeover procedures can include:
Breast lift and/or Augmentation
Tummy tuck
Liposuction
Each consultation is personally conducted by Dr. Fouda Neel, and a recommendation is individually customized.
Before any mommy makeover procedure, Dr. Fouda Neel will provide verbal explanation and written instructions on how the patient should prepare for surgery and what the patient can expect after the procedure. To optimize safety, patients having multiple procedures that cannot be accommodated in a single operating room session will be staged into multiple sessions by Dr. Fouda Neel.
The staging will take into account the concerns most important to the patient, as well as which procedures can be grouped in a medically/surgically appropriate manner. Our downtown Montreal clinic provides overnight facilities with two overnight nurses for those patients who may benefit from an overnight stay.
During a mommy makeover procedure, Dr. Fouda Neel highlights that non-traumatic handling of tissue is key to yield shorter recoveries. He says his patients should expect only a small degree of bruising and swelling since his surgical techniques are designed to minimize tissue trauma.
Dr. Fouda Neel's patients make regular follow-up appointments after their mommy makeover procedure is complete. Generally, mommy makeover patients see Dr. Fouda Neel at the 1 week, 6 week, 6 month, and 1 year marks after surgery. Dr. Fouda Neel wants to ensure his patients receive the results they were expecting and enjoy their rejuvenated figures.
About Dr. Fouda Neel
Board-certified by the Royal College of Physicians and Surgeons of Canada, Dr. Fouda Neel completed his training in Plastic and Reconstructive surgery at the prestigious McGill University training program in Montreal. Subsequently, he enhanced his expertise by pursuing 3 different fellowships in facial and breast aesthetic surgery.
He offers a full range of plastic surgery options for facial rejuvenation, breast enhancement, body contouring, and skin renewal, as well as a number of nonsurgical cosmetic enhancement treatments. Dr. Fouda Neel is an Assistant professor at McGill University and is an Attending staff at McGill University Health Center.