Getting a mommy makeover will not affect your ability to carry your baby safely to term. Depending on how much weight is gained during the pregnancy, some of the positive effects of the makeover will be reversed, but it's possible to correct those issues a second time.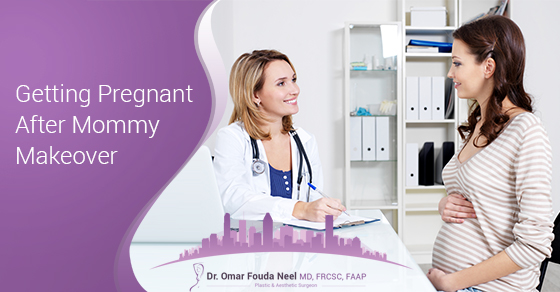 Make sure your body has healed
Many doctors would recommend that you wait for 4-6 months after the procedure before trying to conceive another baby, and this is to make sure that everything has healed up. Once the place of incision has soundly closed, your body will be able to expand properly to accommodate the growth of the baby and any additional baby weight that you might accumulate during pregnancy.
Additional elasticity
A tummy tuck removes excess skin, but the remaining skin is still incredibly stretchy. In addition, the underlying muscle can shift and withstand the pressure of an expanded uterus pushing from the inside. A normal tummy tuck will not introduce excess scar tissue, which would affect the stretchiness of the body.
Will I need more work after the pregnancy?
The answer depends on:
How you carry your baby. Women can carry high or low, and the baby bump can also extend outwards in varying sizes. The more your belly extends outwards, the more your abdomen will stretch.
The amount of weight gained. This volume is separate from the space your baby will require, so it's possible to have a very large belly despite gaining very little excess weight.
Eating well and getting lots of exercise that's appropriate for expecting mothers will help to keep your weight in balance.
Being pregnant changes the body in a number of ways
It separates the muscles which usually form a 6-pack (the rectus muscles).
It stretches out the skin over your belly.
Tummy tucks, which are part of the mommy makeover, involve reattaching the separated 6 pack so that it lies flat, as well as removing excess skin. Although you can take steps to reduce how much the skin stretches, the rectus will remain split unless it gets reattached.
It's recommended that you wait until you're done having children before getting another tummy tuck, if that's necessary, but some women won't even require a second procedure. It's always a good idea to check in with your family doctor and surgeon who performed the makeover to make sure that your body is ready for another baby.