While both a tummy tuck and liposuction can be excellent body contouring tools, they are not interchangeable.
They will both help you achieve a smoother, more toned body – especially when used in conjunction with each other – but their uses differ somewhat. In the simplest terms, a liposuction treatment will only remove pockets of excess fat, while a tummy tuck can target excess skin, pockets of fat, and weakened, sagging muscles in order to create a much smoother, flatter stomach area.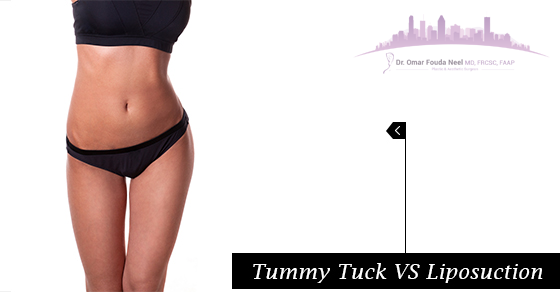 Liposuction
This procedure can be used to remove stubborn fat from most areas of the body. It is best suited to healthy patients with firm, elastic skin. This is because liposuction cannot remove loose or sagging skin and removing fat from these areas may only worsen the appearance of loose, hanging skin. Because only a limited amount of fat can safely be removed at one time through liposuction, patients should be close to their ideal weight before their procedure.
The Procedure
In order to perform a liposuction procedure, your surgeon will make small incisions around the area before infusing the treatment area with a solution of saline and pain medication. This solution is designed to reduce bleeding and pain throughout the procedure. Finally, a small cannula is inserted to loosen the fat before it is suctioned out.
Tummy Tuck
Only used on the abdominal area, this surgical procedure combines fat removal with the removal of excess skin tissue as well as the restructuring and repair of muscles in the area. A common choice for mothers in the Montreal area, this procedure can help to repair muscles damaged through pregnancy and childbirth in order to achieve a much flatter and more toned stomach.
Well-suited to mothers and people who have experienced drastic weightloss, a tummy tuck is a major surgery that pulls the muscles into tighter alignment, trims excess skin, and removes excess fat from the area.
The Procedure
Depending on the desired results of the patient there are several different kinds of tummy tucks that can be performed. The main different between them is how much of the abdominal area they affect.
Mini-tummy tucks, for example, target a small section for improved recovery and healing times, while an extended tummy tuck includes not only the lower abdomen and side areas but also the section above and around the belly button. Because this is a more involved procedure, it will require greater recovery time than a less invasive procedure like liposuction, but it can be used to achieve more dramatic results.