Dermal Fillers Frequently Asked Questions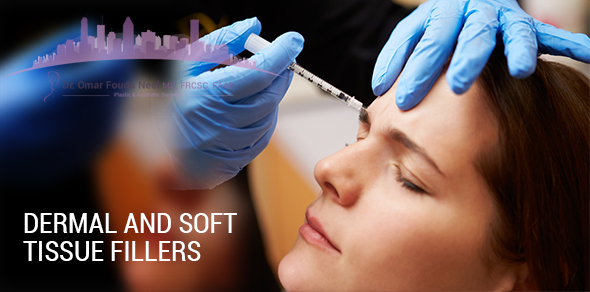 How do dermal and soft tissue fillers work?
Dermal fillers were originally designed and are still effective to smooth out folds in the deeper layer of the skin (dermis). Common areas for this treatment are the nasolabial folds (laugh lines) and the marionette lines. It was later discovered that dermal fillers could also add volume to locations such as the lips. More recently, new soft tissue fillers have been developed to augment areas that have lost volume through aging, such as the cheeks. Fillers are gradually absorbed by the body, so the result is not permanent.
How are dermal fillers administered?
They are administered by Dr. Fouda Neel himself, who will first consult with you regarding the areas of greatest concern and the areas which will be best treated by using dermal fillers. Numbing cream is placed on the skin prior to any injections; this usually makes the injection of fillers almost painless. Dr. Fouda Neel will use a tiny needle to inject the product into the targeted areas.
Which dermal fillers do you offer?
At my practice, we offer JUVÉDERM® and Restylane® products. Both of these brands use hyaluronic acid, a man-made molecule which replicates one of the principal substances which makes up human skin. Different patients will require different types of dermal fillers, and sometimes, a combination of fillers may be necessary to achieve the desired result. There are many other dermal fillers available on the market, some of which may offer more permanent results. I feel there may be potential problems with such permanent treatments, and therefore we have restricted ourselves to the use of temporary fillers that use hyaluronic acid.
What's the difference between botulinum-based wrinkle smoothers and dermal fillers?
Dermal fillers are different than other injectable treatments because they are designed to add volume to the face in specific areas. Botulinum-based wrinkle smoothing injectables are designed to reduce the amount of movement in the muscles that contribute to dynamic wrinkles. Also, dermal fillers tend to last a bit longer for most patients than other treatments which temporarily inhibit muscle movement.
What can dermal fillers treat?
Dermal fillers can treat a variety of skin imperfections of the face, including marionette lines, smile lines, and thin or wrinkled lips. Newer fillers are proving very useful in adding volume to the cheeks. The best way to find out how dermal fillers can help you improve your facial appearance is to speak with Dr. Fouda Neel and create a treatment plan.
About Dr. Fouda Neel, MD, FRCSC, FAAP
Board-certified by the Royal College of Physicians and Surgeons of Canada, Dr.Fouda Neel completed his training in Plastic and Reconstructive surgery at the prestigious McGill University training program in Montreal. Subsequently, He enhanced his expertise by pursuing three different fellowships in facial and breast aesthetic surgery. He offers a full range of plastic surgery options for facial rejuvenation, breast enhancement, body contouring, and skin renewal, as well as a number of non-surgical cosmetic enhancement treatments. Dr. Fouda Neel Is an Assistant professor at McGill University and is an Attending staff at McGill University Health Center.