There is no denying that a nicely shaped buttocks area has become a major trend in our society; celebrities and civilians alike have become very conscious of how their backside looks, and seek ways to enhance it.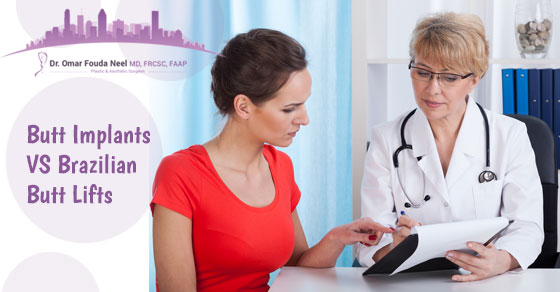 There are two ways to improve the look of your buttocks through cosmetic surgery: implants or fat injections, also known as the Brazilian butt lift here in Montreal. Both procedures will give you a natural looking, curvy derriere, but they do differ from each other in how that is accomplished, and each one has its own pros and cons.
What is involved in each procedure?
Butt implants are similar to breast implants in that a "pocket" is surgically created for the implants. To create that pocket, an incision is made overlaying the tailbone between the buttocks, the butt muscle is lifted up, and the implants are inserted. The implants are either round or oval in shape. The most common implants are filled with solid silicone — a highly durable material that withstands rupturing and deflating from pressure of sitting down. After the implants are placed, the incision is sewn up.
During the Brazilian butt lift, on the other hand, the buttocks is shaped with the patient's own body fat, removed through liposuction usually from the abdomen, lower back, or hips and flanks. After the fat is removed, it is purified and injected into the buttocks. This procedure may require several injections all over the buttocks in order to create the desired shape. Sometimes liposuction is also used before the fat is injected to achieve a better shape of the buttocks ahead of time.
What are the pros and cons of each procedure?
Recovery: Recovery is quicker and less painful after Brazilian butt lift – most patients can return to a desk job within a week, and full activities within three weeks.
Post-surgery effects: There is swelling after a Brazilian butt lift. The patient needs to wear a special garment to control the swelling for two weeks, and the body does need some time to recover from the liposuction used to do the fat transfers. However, most patients do not experience any significant swelling after implant injections.
Risks: Both procedures are surgeries, and as with any surgery, there is always a risk of infection, bleeding, or scarring. With the Brazilian lift there is also the chance of the body reabsorbing the fat, and so a number of injections may be necessary. With the implants there is a small risk of slippage and asymmetry, if done by an inexperienced doctor. There are also other minor risk possibilities that come along with butt implants, including fluid collection and capsular contracture (a negative response of the immune system to foreign materials in the human body).
Results: Results in a Brazilian lift are final in about three months – it takes approximately this length of time to determine if and how much fat has been reabsorbed by the body. However, after three months the results of the surgery are permanent.
With an implant surgery, results can be seen immediately, although it may take up to 8 months before the implants feel like a natural part of the buttocks. However, butt implants may need to be replaced over time. Because they take so much abuse on a daily basis (sitting and sleeping), you may have to have them replaced in the future.
When is one procedure a better fit for a patient?
If you want to increase the size of your buttocks or you do not have enough fat on your body for fat transplants, implants may be the way to go. However, if you are happy with the size of your derriere, but you do want to make it more perky and shapely, the Brazilian lift is likely the better option.
Most surgeons agree that either option is a great one for those looking to increase the shape and feel of their back sides. For more information, talk to Dr. Fouda Neel's team today.