As the body ages, the skin naturally begins producing less collagen and elastin, causing it to loose elasticity and begin to sag. Some parts of the body are more susceptible to this process than others and these areas are also affected by each person's unique DNA. The face is one such area of the body that tends to show age, and the upper eyelids are an important region. When the upper eyelids begin to droop and sag, not only can they cause a tired, sleepy, worn down appearance, they can also result in disturbances to your vision.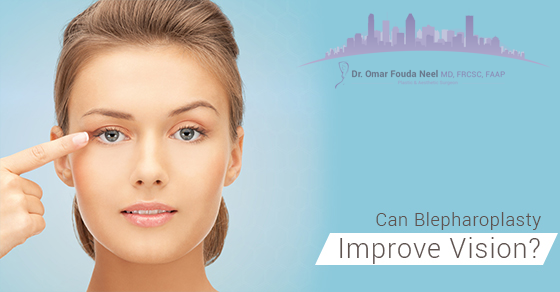 What causes drooping eyelids?
As the skin ages and loses elasticity, it stretches and sags. The muscles underneath begin to weaken and, over time, pockets of fat begin to bulge into prominence. While it may be a slow process, many patients find that this skin begins interfering with their vision. Whether it is difficulty wearing glasses or contacts or inability to see clearly out of the corner of their eye, drooping eyelids can be potentially dangerous to people, especially when performing everyday tasks like driving.
Many patients also find that they experience some forehead discomfort from overused muscles as they try to open their eyes wider. When the bulging, sagging skin becomes a problem, it is possible to undergo blepharoplasty as a medical procedure in order to improve your vision and decrease discomfort. In patients who find their vision greatly impacted by this sagging skin, peripheral vision shows dramatic improvement following blepharoplasty treatments, allowing them greater comfort and increased independence.
The Basics
The blepharoplasty procedure typically takes anywhere from 1-3 hours to complete depending on the skill of the surgeon and the extent of work that needs to be done. Full recovery time is anywhere from 4-6 weeks, but many patients will be able to return to most of their day-to-day activities as early as one week following their procedure.
Typical results include:
Younger, brighter looking eyes
A refreshed appearance
Improved peripheral vision
Increased comfort wearing glasses or contacts
Decreased forehead tension from overused muscles
Good Candidates
The best candidates for upper eyelid surgery are:
Suffering from excessive drooping or sagging of the eyelids dye to age
Free of conditions that affect the eye such as dry eyes, thyroid conditions, eyes disease, diabetes
Non-smokers
Aware of the potential risks and benefits of the procedure
Informed about what they can realistically expect from the procedure