Experts have noticed a large upswing in the number of patients undergoing arm lifts in recent years. This is likely due to a return of sleeveless fashions and the example of public figures like Michelle Obama, Jessica Biel, and Sarah Jessica Parker, this tremendous rise in popularity owes much of its existence to an improvement in technique and technology.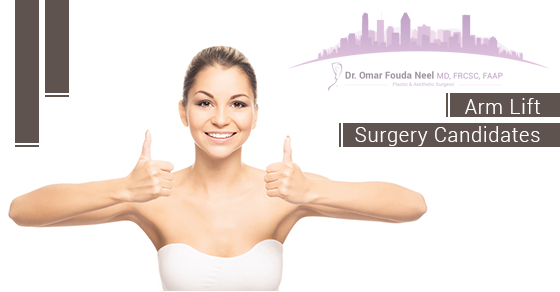 The Basics
An arm lift is a cosmetic surgical procedure that is used to reshape the upper arm. It tightens loose skin, removes excess fat, and removes excess skin left behind by weight loss. Sometimes combined with liposuction, it is the only way to improve the tone and firmness of the upper arm area.
Flabby or saggy skin on the upper arm can have a big impact on how we feel about our bodies and many women and men begin to worry about the look of their 'bingo wings' as they grow older. As the skin loses elasticity, excess subcutaneous fat begins to show in pockets of droopy flesh.
Benefits of an upper arm lift include an improved appearance in tight-fitting clothing, improved self-confidence and self-image, and a more flattering appearance in sleeveless or short sleeved fashions.
Good Candidates for Arm Lift Procedures
As with most surgical procedures, cosmetic or otherwise, it is best to undergo them when you are in the best possible health. This not only refers to not having a cold or fever but also to being physically fit. There are many associations between being obese or significantly overweight and having complications during surgery or experiencing negative reactions to the anesthesia.
Also, if you are planning to lose any weight, it is not a good idea to undergo cosmetic surgery before you have finished your weight loss plan. Significant weight loss will have a large impact on the results of your surgery, often resulting in more work being required in order to achieve the results you desire. Instead of paying twice, achieve your ideal body weight before going under the knife in order to ensure you get exactly the results you want.
Another aspect of being healthy enough for an arm lift is the smoking factor. While this may not be an easy thing to give up, it is extremely important for your health and recovery to stop using any nicotine products at least two weeks before your procedure and, if not permanently, for several weeks following. This is because nicotine greatly reduces the ability of your blood to carry oxygen and nutrients to healing incisions, slowing the healing process and increasing the risk of infection.
If you are a non-smoker who has achieved their ideal body weight and does not suffer from any serious medical conditions, you are a perfect candidate for upper arm lift surgery! Contact the office of Dr. Fouda Neel for more information today.