Big and beautiful butts have been getting worldwide attention thanks to celebrities like Kim Kardashian and Nicki Minaj. And of course, the beaches of Brazil have been famous for women showing off their curvy hips for years!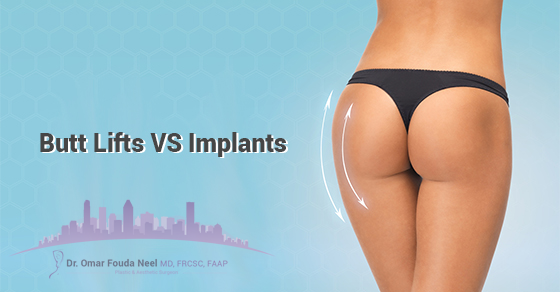 Are you interested in achieving a fuller, rounder, more curvaceous butt? Perhaps you want to show off by filling out some tight jeans or a swimsuit. Or, it could be for your own private confidence and self-esteem.
No matter what your motivation is, there are cosmetic surgery options available to you. The two main categories are:
Butt Implants

Brazilian Butt Lift
Unless you happen to be an expert on cosmetic procedures already, you might be curious about the merits of each procedure. Which one will be ideal for you to achieve your desired shape?
First, let's look at the basics of what each procedure entails.
Butt implants, as the name implies, involves implanting a prosthesis into the buttocks. They are usually filled with silicone, similarly to breast implants.

Brazilian butt Lifts transfer your body's own fat tissue to the buttocks instead of using a silicone implant.
That sounds straight forward enough. But which one is right for you? A consultation with Dr. Fouda Neel or your cosmetic surgeon is the only way to know with certainty. However, in most situations, surgeons recommend Brazilian butt lifts over butt implants.
Brazilian butt lifts often have a few significant advantages over implants:
Shorter recovery period
Butt implants are a more invasive procedure, and require a longer recovery period than a Brazilian butt lift.

More natural feeling
Since a Brazilian butt lift transfers your own natural fat tissue to your buttocks, it will always feel more natural than an artificial implant.

Longer lasting
Butt implants usually have to be replaced after 8 – 12 years. On the other hand, a Brazilian butt lift will last indefinitely.

Slim waist + curvy hips
An implant only adds material to your body without removing anything. However, a Brazilian butt lift will remove fat from other areas of your body like your waist and abdomen in order to transfer it to your buttocks. The overall effect of this is to maximize your curves and make the other areas of your body slimmer.

No capsular contracture
"Capsular contracture" is a type of scarring that can harden around an implant. With a Brazilian butt lift, there is no risk of this occurring.
While both procedures do have their benefits, it's important to choose the one that is best for you and your body. Contact us today to learn how either a butt lift or implants can improve your shape!