Weight gain and loss does not only occur in the abdominal region. In fact, it tends to occur all over the body, including the pubic region. When a large or excessive amount of fat collects in this region, it can cause discomfort, not to mention a drop in self-confidence due to the unsightly bulges it can cause beneath tight or fitted clothing.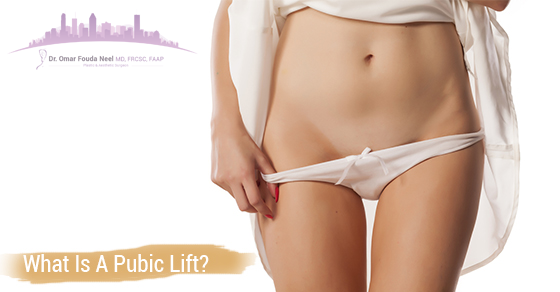 Aging and weight gain can also cause tissues in this region to sag and droop, exacerbating discomfort or aesthetic concerns. Unfortunately weight loss does not work very well on this area and there are no specific exercises to target burning pubic fat. This means that even after losing weight, the tissues in this area do not bounce back quickly and often require a bit of extra help.
A pubic lift is a cosmetic surgery procedure intended to correct and repair these issues. By removing excessive skin from the area above the pubic hair and removing fat from the region, the pubic area can be rejuvenated for a more pleasing and youthful appearance. This will allow you to wear tight or fitted clothing in comfort again without worrying about unattractive bulges.
Many women and men who suffer from enlarged or distended pubic tissue consider it a large source of embarrassment. They become self-conscience of their sexuality and often avoid intimacy, affecting their sexual satisfaction and happiness. Many patients also experience significant discomfort from the pressure of this extra tissue inside tight pants or while riding a bike.
Benefits
There are many benefits to undergoing this procedure:
Reclaim your sexuality and restore intimacy
Improve self-confidence
Enjoy physical activities such as bike riding again
Improve your appearance and comfort in tight clothing
Feel comfortable in your body again
Procedure
Performed under an anesthetic, this procedure remove unwanted skin, tissue, and fat from the area. Afterwards, the skin it tightened and the incision closed with stitches.
For best results pubic lifts are often combined with a pubic liposuction procedure to remove extra fat. In many cases a tumescent liposuction procedure will be used. This means that the target area is first swollen with fluids in order to assist with the removal of fat from the region.
Recovery
The average recovery time for a pubic lift is fairly short and most patients are able to return to work within a few days. Patients may experience mild discomfort or swelling during the initial healing period.