Facial fillers are rapidly becoming one of the most popular cosmetic treatments among women and men in Montreal and around the world thanks to their less-invasive techniques and impressive results. Rather than go under the knife for a traditional facelift, many patients are finding that fillers are a great way to create a subtle, natural looking improvement in the appearance of fine lines and wrinkles in the face.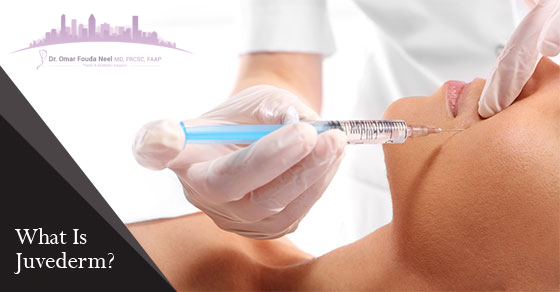 One of the most popular and highly recommend facial fillers in North America, Juvederm is a smooth, injectable gel filler made of hyaluronic acid (HA). This naturally occurring sugar is already found in the human body, making it a highly safe and natural way to reduce fine lines and plump certain areas of the face to correct the gaunt, tired appearance aging can cause.
How Does it Work?
Hyaluronic acid naturally combines with water present in the skin to smooth out wrinkles and lines, enhance the lips, and restore lost volume to the cheeks. Operating like a sponge, it binds with and absorbs water to create volume and ensure that skin remain hydrated and healthy.
In fact, this little sugar is known to absorb as much as 1000 times its weight in water, making it extremely effective at plumping and hydrating the skin. It also works to naturally stimulate the production of collagen, a substance that promotes healthy and elastic skin.
The visible effects of aging on the skin are partially due to the natural decrease in production of this sugar that occurs as we get older. Thus it only makes sense that adding more of this sugar back into the skin will help to erase the effects of time, leaving our skin looking healthier, smoother, and younger.
Discovered in 1930, hyaluronic acid was found to play a key role in the health and hydration of skin, but due to the effects of pollution, sun exposure, and aging, natural production within the body drops off significantly. In the early 2000s, this power was harnessed to create the first facial filler approved by the FDA for use in North America, and it has been used ever since to correct wrinkles and folds in the skin of the face.
Now Juvederm is one of the fastest growing non-surgical procedures in Montreal and around the world, and is the only hyaluronic acid based filler shown to last up to one year in any skin type. Able to correct moderate to severe wrinkles, it produces natural, instant, and long lasting results with virtually no recovery time or risk of rejection.