Gynecomastia is a common condition in and around Montreal in which a man's breasts are enlarged and look flabby. This is commonly due to a hormonal imbalance or hormone therapy – not excess fat. People often think that a man with loose pectoral muscles is not spending enough time on the bench press, but this is not necessarily the case.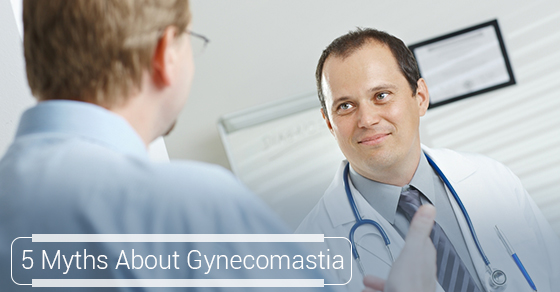 Although gynecomastia is not a dangerous condition, it can cause a man to feel ashamed of his body, which is why breast reduction surgery is not only for the ladies. Here are some myths surrounding "man boobs" that need to be debunked.
MYTH 1 – Gynecomastia is caused by obesity
Being overweight is not the only cause of gynecomastia. It is important to note that it is a common condition that many men experience. The condition may be hereditary or caused by aging, as some men experience dramatic changes in their bodies as they get older.
There is only one type of gynecomastia that is caused by obesity, which is called pseudogynecomastia, and it occurs when fat tissue forms over the mammary glands.
MYTH 2 – Gynecomastia surgery is a complicated procedure
Male breast reduction surgery takes only 1 to 2 hours, and patients are sent home the same day. During the procedure, extra skin and breast tissue are removed by making an incision around the nipple area. Recovery time varies, but patients are often able to resume work after 10 days.
MYTH 3 – Exercise will cure gynecomastia
Since gynecomastia is often a hereditary or aging issue, it cannot be cured with exercise. No amount of boxing or weight lifting can solve a man's hormone imbalance, and strenuous exercise could actually agitate the disparity.
MYTH 4 – Topical creams and massages will remedy gynecomastia
Turn off the infomercials. Unfortunately, there are no topical creams or massage techniques that can cure this condition. Save your money and your time by not buying into unsubstantiated sales pitches.
MYTH 5 – Gynecomastia surgery is not permanent and the patient can relapse
Once the gland is completely removed via breast reduction surgery, the condition is highly unlikely to return. An amazing upside to the procedure is that you can actually witness results as soon as the swelling subsides.
If you would like more information or are interested in booking a consultation for gynecomastia surgery, contact the Dr. Fouda Neel team of experts to discuss any questions you may have.