Frequently Asked Questions About BOTOX Cosmetic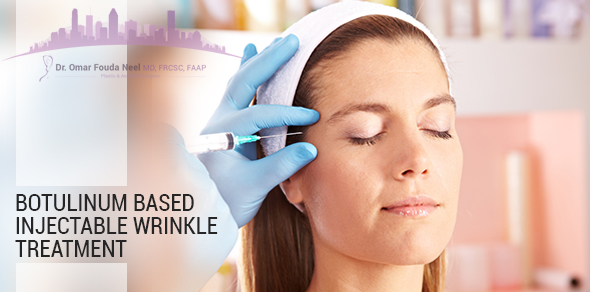 What can this wrinkle treatment correct?
Botulinum-based injectables can treat forehead wrinkles, crow's feet, frown lines between the eyebrows, as well as wrinkles on the upper lip. These are called "dynamic" wrinkles, meaning they are caused by repeated facial expressions. To treat these lines and wrinkles, Dr. Fouda Neel will create a treatment plan by targeting specific areas of the skin for a customized treatment.
What else can botulinum toxin be used for?
Botulinum toxin can be used to change the underlying shape of certain facial features. The eyebrows can be raised slightly by weakening the muscles which pull them down. Also, neck bands can be softened by relaxing overactive platysma muscles. Another condition that responds very well to this treatment is hyperhydrosis (excessive underarm sweat).
Lastly, some patients experience a dramatic reduction in the incidence and severity of migraine headaches, providing the injections are done into the appropriate trigger points.
Who will be performing my treatment?
Dr. Fouda Neel will perform your treatment himself, which he will customize to address your specific concerns. Before your treatment, you will consult with him to create a treatment plan that will maximize your results.
How long does the procedure take?
Botulinum toxin injections generally take about 15 to 30 minutes to perform. For your comfort, a topical anesthetic may be applied to the area before treatment. After your procedure, you may return to your normal, everyday activities. However, you may experience slight redness and swelling at the injection sites. Typically, results from a botulinum-based injectable wrinkle treatment last about 4 to 6 months.
Can botulinum-based injectables be combined with other procedures?
Depending on your specific needs, sometimes a wrinkle treatment can be combined with dermal fillers for more comprehensive results. During your consultation, Dr. Fouda Neel will assess whether you are a candidate or not for combining procedures.
What are the risks associated with botulinum toxin?
Millions of people the world over have undergone treatment with botulinum toxin with no problems. The most common complication is the inadvertent paralysis of muscles adjacent to the muscles being targeted. This can lead to temporary changes which, fortunately, will resolve on their own.
About Dr. Fouda Neel
Board-certified by the Royal College of Physicians and Surgeons of Canada, Dr. Fouda Neel completed his training in Plastic and Reconstructive surgery at the prestigious McGill University training program in Montreal. Subsequently, He enhanced his expertise by pursuing three different fellowships in facial and breast aesthetic surgery.
He offers a full range of plastic surgery options for facial rejuvenation, breast enhancement, body contouring, and skin renewal, as well as a number of non-surgical cosmetic enhancement treatments. Dr. Fouda Neel is an Assistant professor at McGill University and is an Attending staff at McGill University Health Center.