Looking as young as you feel on the inside is not impossible. A facelift, clinically called a rhytidectomy, reverses the signs of aging by correcting sagging skin, wrinkles and creases. A facelift in our Montreal office can also heighten the natural beauty of your features, pulling the skin back and accentuating your contours.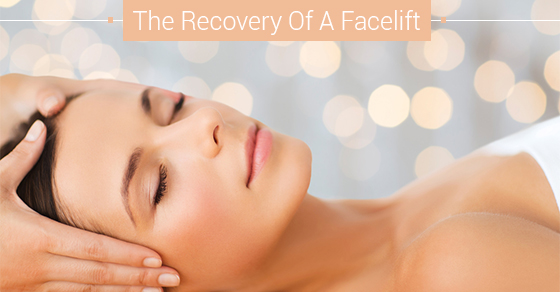 Undergoing a facelift procedure is an important decision. Make sure you consult with your plastic surgeon regarding all options prior to making a decision. Recovery time varies for different individuals, but generally patients must rest for at least two weeks prior to resuming normal day-to-day activities. However, your true results will not be noticeable until you are fully healed, which may take anywhere from one to four months. It can even take a full year to see the absolutely complete results. Remember to always wear sunscreen, as your post-surgery skin will be very sensitive.
Four Stages of Recovery
Week One
Take it easy and rest up. You will be taking heavy-duty pain medication and will most likely experience nausea and fatigue because of them, but it is still important to move around every couple of hours starting one or two days after surgery. Your bruising will be at it's worst three to four days after surgery, so don't fret – this is normal. Moving your body is important to get your blood flowing and the healing process underway.
Week Two
You will experience bruising and swelling on one or both sides of your face, neck, eyes and ears. Week two is still part of the resting period, so do not overdo it. You will start to see improvements in your appearance during this stage, too. If your surgeon used staples on your incision, he or she will probably remove them during this week.
Weeks Three and Four
This is when your incisions will begin to improve and you will feel much more confident in your appearance. You will be able to resume your normal life activities, such as going to work, grocery shopping and more. However, you are still healing, so strenuous physical activity is not allowed. Make sure you consult with your doctor before resuming any physical training or exercises, as well as using steam rooms, saunas or any other activities or products that make you red in the face.
One Month +
After about a month, you should be feeling pretty well healed. The bruising and swelling should be almost unnoticeable and you should feel ready to take anything life throws your way. If you have any concerns about your recovery, make sure to contact your doctor.
If you would like more information or are interested in booking a facelift consultation, contact our team of experts to discuss any questions you may have.