The Brazilian butt lift procedure has helped many Montreal residents achieve their ideal physiques. But due to the confusion on the treatment process and the recovery from the treatment, many people are left with questions about Brazilian butt lifts and the activities that can be completed directly after the procedure takes place. In this article, we'll examine the Brazilian butt lift treatment process in more detail and answer the question "How long after a Brazilian butt lift can I fly?".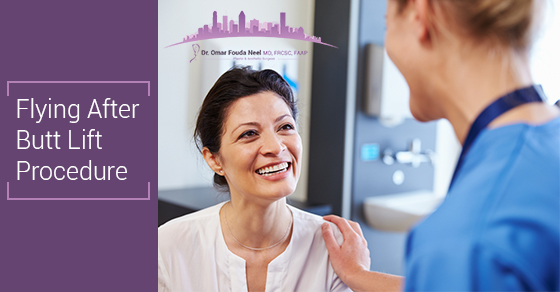 What Does the Brazilian Butt Lift Treatment Involve?
The Brazilian butt lift is a treatment that involves using a person's existing fat cells to augment the physique of their buttocks. During the procedure, fat is taken from a person's fleshy areas of their body and transported to their buttock areas. The specialist may also complete additional liposuction around the buttock areas to improve the shape and overall appearance of the buttock. Due to the extensive nature of this procedure, many find that they are unable to sit comfortably over an extended period of time in the days afterward.
Flying After Brazilian Butt Lifts

When on a long haul flight, a passenger may be forced to sit for many hours, placing pressure on their buttocks and thighs. For those that have recently undergone the Brazilian butt lift procedure, this could potentially cause discomfort and may mean that they damage the treatment area.
It's why specialists recommend that Brazilian butt lift patients wait for several weeks to take long haul flights around the world. There have been reports of patients developing a clot after traveling within a week of their Brazilian butt lift.
Wait a Week or More for Optimal Results
The industry-wide consensus is that patients are recommended to avoid sitting for prolonged period of time for at least a week after their procedure. There are multiple benefits to waiting for this length of time. Firstly, it gives the treatment area a longer time to heal and secondly it can help to prevent many of the rare complications that can arise afterwards.
By simply exercising caution and avoiding long travel in the week after their Brazilian butt lift procedure, patients can ensure exceptional treatment results. It's important to communicate with a specialist if you have any questions about your treatment and recovery process. To learn more on the Brazilian butt lift procedure, call our expert office team today!