A Brazilian butt lift, popular in Montreal, Ottawa, and other Canadian cities thanks to its ability to make the buttocks more shapely, perky and round, is both safe and long lasting. It can also give you a more sensual figure and improve your hip-to-waist ratio.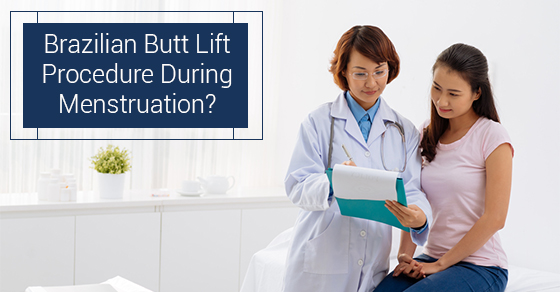 Candidates for the Brazilian Butt Lift:
If your bottom is flat, saggy or asymmetrical.
If you have excess weight or fat on your body (20 to 30 pounds overweight or a size 6). Another good indicator of if you have enough fat on your body to be harvested is via an at-home grab test. If you can pinch a handful of fat on your stomach or more, you will more than likely meet this requirement.
Be in good health.
Be a non-smoker.
Can Brazillian Butt Lift be Done During Menstruation?
Sometimes, menstruation can be unpredictable. Some women may have concerns over whether menstruation will affect cleanliness during the recovery stage and wonder if they can go through with the procedure at all if they happen to get their period right before their scheduled procedure.
The answer to this is that having your period before your scheduled brazilian butt lift or during the recovery stage typically does not affect your candidacy for the procedure. Your cycle should not complicate the procedure, increase any risk or be a cause for concern regarding cleanliness. In fact, menstruation during surgery occurs frequently. The procedure is still very safe.
However, the one exception to this is if you have traditionally had very heavy periods in the past. While the Brazilian butt lift does not typically lead to a lot of blood loss, when surgery and a heavy period are combined, it has the potential to lead to blood loss and thus, anemia could result.
If you have had a history of heavy periods or currently have anemia, it is strongly advised to discuss this matter with your plastic surgeon prior to your procedure so that the issue can be dealt with. You doctor may test your blood counts prior to surgery – if they are okay, you will likely be given approval to proceed.
Cosmetic surgery is often associated with increased confidence and an increased sense of well-being. Patients are usually very happy with their results. If you are interested in having a Brazilian butt lift or are simply seeking further information on the procedure itself, contact our team of experts today to address any questions or concerns you may have.