Botox and facelifts rejuvenate different areas of the face, and the effects of Botox are short-term whereas facelifts are long-term. It's really a matter of personal preference–you may find the facelift is best on its own and that non-surgical rejuvenation is unnecessary, but you do always have the option to supplement your facelift with Botox for a full-face treatment.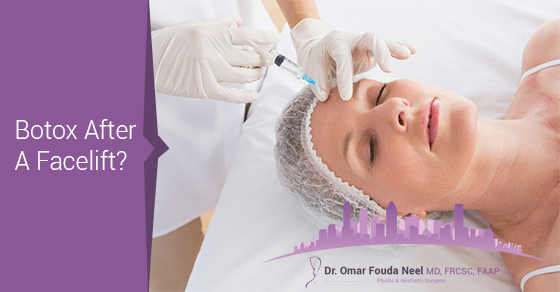 How do Facelifts Help?
Facelifts can be any combination of excess skin removal, tightening of the underlying muscle, and repositioning of the skin. This procedure is particular effective on people with excess skin that's lost some of its elasticity. Issues that are best corrected by facelifts include:
under eye wrinkles that have formed deep lines in the face
deep forehead creases that are visible even when there's no expression on the face
drooping eyebrows that form pouches overhanging the eyes
sagging cheeks
visible folds between the nose and cheeks
All these issues are found in the top half of the face, which is where Botox is most effective.
Focusing on the jawline
Altering your jawline may be enough to change your looks that you might find the other issues on your face to be minor. A defined jawline distinguishes your chin and jaw from your neck, ears, and cheeks. Weight loss is not always the answer, as skin that's aged will start to sag. Facelifts will help with:
double chins
jowls
turkey neck
With a distinguished jawline, you may not need to adjust sunken cheeks or creases around the nose and under the eyes.
Botox
Botox relaxes the muscles which form ridges causing wrinkles to form in the skin above. The effects work best in areas where skin is stretched or creased on a regular basis, such as:
the corners of the eyes with crow's feet
laugh and frown lines
the vertical lines between the eyebrows
horizontal lines forming forehead wrinkles
Facelifts won't help with these issues, but it's possible to combine both for a full-face treatment, and Botox can be used 4-6 weeks after the procedure.
In contrast, fillers can be replaced by facelifts, which is beneficial for the following reasons:
it's permanent
there's less change between the period immediately after getting the injectable and right before you return for your next treatment
While you won't necessarily need Botox after a facelift, it's possible to combine them together; in addition, you don't have to wait for the effects of Botox to wear off completely before undergoing a facelift. For more information, contact our team of specialists.