Juvederm is a filler that's mostly used for the creases along the nasolabial fold, the lips, and to fill hollows in the face caused by aging or scarring. The ideal application is for people who want to look youthful in a natural way and would like to avoid permanent changes as in a facelift.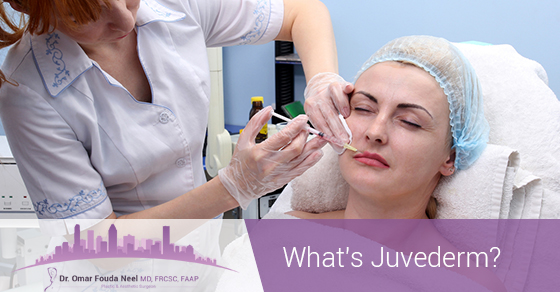 How does Juvederm work?
The active agent in Juvederm is hyaluronic acid, which has a number of properties making it suitable as a filler:
it's hydrophilic, meaning it loves water, so when injected under the skin, it will draw lots of moisture into the area, making it look naturally filled
with the presence of water, it will also attract nutrients, causing the skin above to be well nourished
hyaluronic acid bonds well with collagen and elastin to support the area and make it soft and supple
What about hyaluronic acid?
In a 5% aqueous solution, the pH value is 5-8.5, which is not very strong as far as solvents go. For example, gastric acid which is used in your stomach to break down food is made from hydrochloric acid which has a pH value to 1.5-3, which is far more acidic than hyaluronic acid. Hyaluronic acid is gradually absorbed into the body, so 6 months or so after the injection, the effects will have worn off.
Nasolabial folds and aging
Nasolabial lines are naturally occurring folds that separate the cheeks from the nose and upper lip area. Their appearance intensifies over times from the following causes:
aging, which leads to tissues losing elasticity
weight gain, accentuating the fold
smiling or frowning, by building up the underlying muscle structure
In addition, there are people whose faces have pronounced folds to begin with. For faces that are thin, nasolabial folds can make people appear sallow, but with heavier people, these folds can emphasize the width of their face.
How does Juvederm improve your looks
Juvederm removes lines from the face so you can appear younger, rested and refreshed. In addition, Juvederm can be injected into the lips for a fuller, plumper profile, which will help lips that have deflated as a result of fat breaking down as you age.
The reason that Juvederm is one of the most popular fillers used in Canada is that it fills up the hollows and dips on the face in a way that looks and feels natural. It's also been clinically tested to be safe for use. For more information, talk to one of our specialists today.