With the increasing availability of cosmetic procedures — both invasive and non-invasive — more and more people are seeking to get as close to perfect as they possibly can.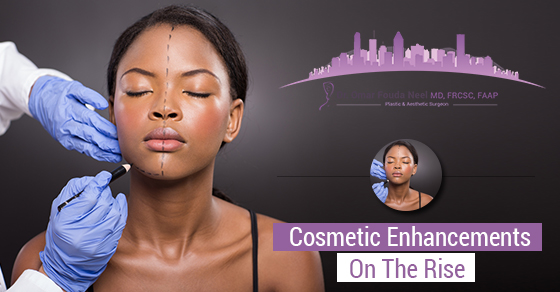 There are all sorts of options to become an even more attractive and confident version of your present self, and a consultation with a skilled cosmetic surgeon might be all that stands between you and a life-changing treatment.
If you've ever wondered what the most popular cosmetic enhancements happen to be, then you're in luck! We're taking a look at the five cosmetic enhancements that will rise in popularity this year.
Liposuction
If you want to kiss saddle bags, love handles and other pockets of fat goodbye, the liposuction is a good option. For this simple procedure, a cosmetic surgeon will make a little incision and use a vacuum-like device to extract unwanted fat. You'll need at least a few days of recovery time before you can go back to your normal schedule. Post-treatment, you'll need to tend to slight swelling, bruising and possibly tenderness.
Eyelid Surgery
Otherwise known as blepharoplasty, eyelid surgery is a procedure that can give your eyelids a more pleasing shape. To accomplish this, the cosmetic dermatologist will take away bagginess and firm up loose skin surrounding your eyelids. It's an ideal procedure for those who have too much skin either directly below their eyes or on their eyelids.
Breast Augmentations
Breast enhancements have always been a popular option among many women, and it's popularity shows no signs of waning. This procedure involves having implants placed between your breast tissue and the muscles in your chest. Patients who undergo this procedure should hold off on any strenuous exercise post-treatment for two to three weeks.
Nose Job
This is another favourite for people looking to enhance their appearance. Whether you're looking to reshape your nose, change its size, or simply straighten it out, a well done rhinoplasty will help you find a look you live. After surgery, you'll need some down time to deal with swelling and bruising.
Facelift
As we get older, the visible signs of aging will become more and more apparent. This means that we will eventually see your skin start to sag and crease. However, you can correct this with a facelift, which will see a plastic surgeon stretch your skin up to your scalp to make it tight and smooth.
These five options have been popular for years, but we're seeing a drastic rise in the public's interests in them. Talk to our team today to find out how we can get you the look you've always wanted this year!