A large majority of women and men who visit medi spas in and around Montreal want BOTOX COSMETIC® injections. When performed by a skilled cosmetic surgeon, Botox can be an inexpensive, noninvasive way to reduce the visible signs of the aging process.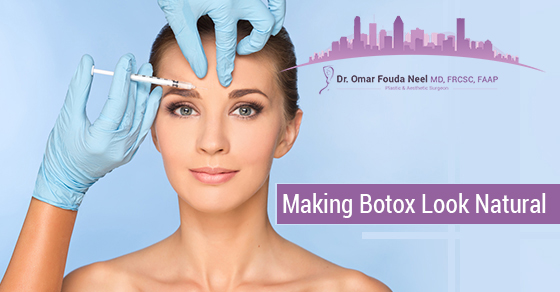 However, too much of even a good thing can be just that; too much. While a bad Botox treatment will correct itself with the passage of time, it's best to avoid any mistakes since they'll make you stand out for all of the wrong reasons.
Fortunately, you can easily avoid an unnatural look! The first step starts with finding a reputable, experienced injector, but below are a few additional ways you can keep your appearance looking natural.
1. Less Is More
If you want to get Botox without looking as though you've had Botox, the trick is to get less of the product than you believe you actually need. That way, you can visit your cosmetic professional for follow-up procedures to possibly add a few more units. So rather than possibly injecting too much by trying to do everything in one session, you can do a bit at a time to arrive at a look that you can be proud of.
2. Patience Is Key
Going in for follow-up sessions is a great idea but don't go back too soon. It generally takes a couple weeks for Botox results to really kick in, so it would make little sense to go back to see your cosmetic dermatologist before that timeframe. Any good cosmetic dermatologist will let you know what would constitute appropriate intervals between sessions.
3. Get the Right Angle
You need to get a skilled cosmetic dermatologist to do your Botox injection, and such a professional will know that getting the right angle is critical to achieving the best results. This is especially important if you want to get Botox around the eye area. By injecting at the right angle, your cosmetic dermatologist can place the needle just barely beneath your skin, which will help you to get the face you want and help prevent bruising, as well.
4. Experience Matters
Don't make cost the primary factor in choosing a service provider. What you should do is find a board-certified cosmetic surgeon who has expertise. After doing your research, write up a short list of candidates and make appointments to go in to speak with them. Ask questions, find out if they can show you before-and-after pictures of people they have personally worked on, and get their advice on what they would recommend for you.
Botox is definitely mainstream and here to stay, but you need to keep these factors in mind in order to get an end result that you can be proud of! For more information, contact our team today.