It is ideal, to be at a healthy weight, one which you can continue to maintain, before undergoing any type of body transformative or contouring surgery, including a mommy makeover. The main issue surrounding weight loss after a procedure designed to remove excess skin is the potentiality that more weight loss after the procedure is going to result in more unwanted excess skin. This could mean additional procedure(s) would be necessary to achieve the look and results you were hoping for in the first place. Here are some considerations to pay attention to while contemplating your mommy makeover.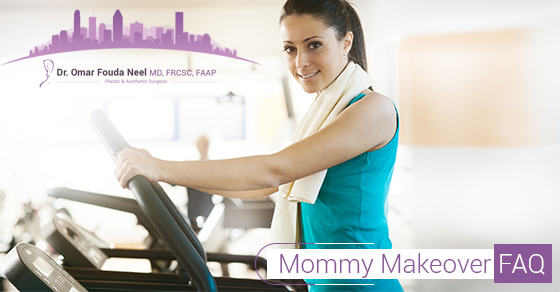 Weight loss before a tummy tuck
Setting and achieving a weight loss goal before a tummy tuck may help to improve the post-surgery contour in your abdomen (the result that you are hoping for). Ideally, you should be aiming for a stable weight and have already started on your way to a healthy lifestyle pre-surgery so that your surgeon is able to accurately determine how best to perform the procedure specific to your body requirements. If your weight fluctuates too drastically before and after the procedure, you may be left with results that are not as long-lasting or as cosmetically appealing as you had hoped.
Weight loss before a breast lift
If you are planning on significant weight loss in conjunction with breast lift surgery, most plastic surgeons advise you undertake it before the procedure so as not to affect the appearance and shape of your breasts. History is a good predictor of the future in such cases. If you have lost or gained a considerable amount of weight in the past and it has had a noticeable effect on the shape and size of your breasts, chances are history will repeat itself after a surgical procedure.
Weight loss before breast augmentation
The ideal scenario for any plastic surgeon is being able to work on a stable structure. Weight loss has a couple of implications for breast dimensions. With weight loss often comes a reduction in breast volume which will ultimately affect your choice of implant size. If you lose weight after the augmentation, the implants that you and your surgeon went with pre-surgery and pre-weight loss may not seem ideal after the post-surgery weight loss.
Weight-loss before liposuction
A reiteration of the above advice, but any significant (20 pounds or more) weight loss should be undertaken before a liposuction procedure. Not only will the end results be more satisfactory, but weight loss before the procedure can make recovery easier since less fat will need to be removed, which ultimately means a less invasive and generally safer procedure.
The consensus among plastic surgeons seems to be that weight loss should ideally be undergone before any sort of body contouring procedure. Losing a considerable amount of weight post-surgery is likely to alter your appearance and may end up meaning additional procedures, surgery time, and costs to achieve the desired results.