Most women who have been pregnant or are pregnant have stretch marks on their tummy. These are surface lines on the skin that are discoloured and are found on the abdomen, upper arms, thighs, breasts and buttocks. Stretch marks occur when a large amount of weight is gained quickly or as a result of fast growth or stress.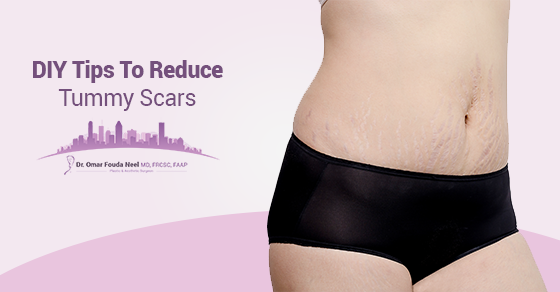 The skin has three main layers including the outer layer (Epidermis), the middle layer (Dermis) and the deep layer closest to the muscle (Subcutaneous). Stretch marks occur in the middle layer of the skin when the connective tissue is stretched out past the level where it can return to a normal form. When skin stretches, it weakens the collagen and damages it. The result is fine scars in the top layer of skin. The stretch marks appear red or pink at first but over time they become a thin, silvery line.
Here are 6 DIY tips to help you to reduce those scars on your tummy:
1. Rub fresh lemon juice on the stretch mark in a circular motion. Allow it to soak into your skin for about 10 minutes before rinsing it off. Lemon juice is naturally acidic which helps to heal acne and stretch marks.
2. White sugar is a natural exfoliant. Just mix it with almond oil and lemon juice and apply it to your stretch marks. Rub these combined ingredients on your skin for a few minutes each day before showering.
3. Cut a medium potato into thick slices. Rub the slices over your stretch marks so that the potato starch covers the area. Allow the juice to dry and then rinse it off with warm water.
4. Rub Aloe Vera gel onto the area of your stretch marks and leave it on your skin for 15 minutes. After 15 minutes has passed, rinse your skin with warm water. You can also mix Aloe Vera gel with vitamin E oil capsules and vitamin A capsules and then rub that mixture on your skin until it is absorbed. Repeat this process daily.
5. Whip up two egg whites with a fork. Apply a thick layer of egg whites to your stretch marks with a makeup brush. Allow the egg whites to dry and then rinse the area with cold water. Rub olive oil on your skin to moisturize it. Repeat for two weeks.
6. Apply cocoa butter to your stretch marks two or three times daily for several months. You can mix a half cup of cocoa butter with two teaspoons of grated beeswax, a teaspoon of apricot kernel oil, a tablespoon of wheat germ oil, and vitamin E oil. Heat the mixture until it melts and then store it in an airtight container in the refrigerator, applying it to your stretch marks 2 – 3 times daily.
Use these techniques regularly to reduce scars on your tummy.