Men and women who see me for a "nose job," or rhinoplasty, here in Montreal are often surprised to learn that the results require some maintenance in order to ensure they last as long as possible. Rhinoplasty procedures vary and as a result the maintenance work and recovery time also varies. Major procedures require much more post-surgical maintenance than smaller ones, such as a procedure where the nose has to be broken. Small procedures, such as minor changes to the nasal septum and cartilage, will require less maintenance work and recovery will be faster. The tip of the nose and nostrils require less post-surgical care and recover much more quickly due to its elasticity. Therefore with proper care, you should be able to enjoy a speedy recovery.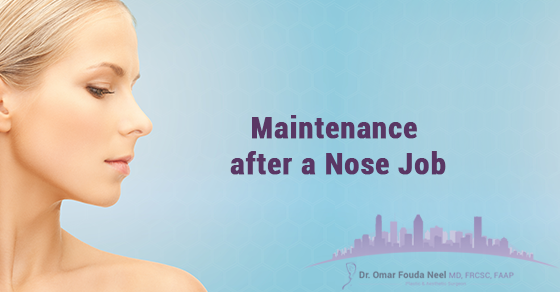 Post-Surgical Maintenance
Difficulty breathing through the nose is a common side effect of a rhinoplasty procedure. Patients are advised to breathe through the mouth. This can be uncomfortable at first, and will take some time getting used to. One effect of constantly breathing through the nose is a dry mouth, therefore it is advisable to have plenty of liquids on hand and to use lip balm. Patients are usually given packing in the nostrils to control bleeding, but recently casts and splints have been in use as well. If swelling occurs, you can use a warm or cold compress to speed up the healing process. Medication can also be used such as arnica and glycodin.
What to Avoid After Surgery
During the recovery period you should avoid blowing your nose. You should also avoid any sports and exercise for two to three weeks after surgery. For the next few months after surgery, contact sports should be avoided to minimise the risk of accidental damage to the nose.
Alcohol causes the blood vessels to expand and this can further increase swelling. Therefore, alcohol consumption should be avoided after surgery. Your doctor can advise you as to when you can resume alcohol consumption after surgery. You should also avoid eating hard foods.
If you wear glasses, try to avoid using them unless absolutely necessary until four weeks after surgery. When you do need to wear glasses, tape them to your forehead or place a wedge between your glasses and nose, such as cotton or foam.
Although the changes effected by rhinoplasty are permanent, it is not immune from the effects of aging. The skin is also still vulnerable to sun damage and blood vessels may become larger causing the top of the nose to slightly lose its projection.
Rhinoplasty is a relatively safe procedure and, if the necessary maintenance protocols are followed, you should see the desired results be it health or beauty. Maintenance is most crucial in the time period immediately following the surgery. Once you have enjoyed a full recovery, you can resume your normal lifestyle and routines.