A thigh lift (or thighplasty) is a cosmetic surgical procedure whos aim is to remove excess skin, fat, and tissue from the legs to give it a more toned appearance. It is a good alternative to exercise and dieting, but you need to be certain that it is in fact right for you. You also need to be aware of your responsibilities once the procedure has been performed. Generally, strenuous exercise is not permitted until at least 4-6 weeks after surgery. Even then, your body still may not have fully recovered. This is why it is important to listen to and follow the advice of your physician who would have intimate knowledge of your physical condition. After approximately two weeks, light exercises are permissible but this must be in accordance with the post-surgery guidelines laid out by your physician. The following are suggestions of what type of exercises might be possible after surgery. Again, the best thing is to consult with your doctor before undertaking any type of exercise regimen.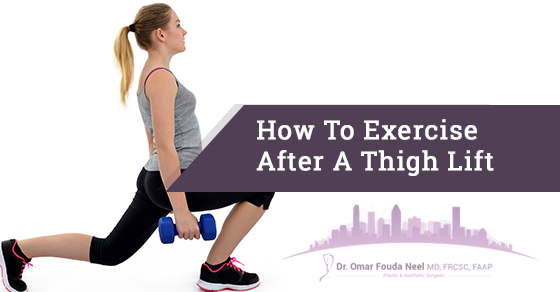 Walking, Light Activity, and Driving
After about two weeks, you can return to work and resume normal everyday routines (provided they are light). Walking, light housework, and driving are good activities that will not impede your recovery. In fact, they can get the blood circulating which is what is necessary.
Wall Push-Ups
Wall push ups are a good upper body exercise that is not physically demanding on the body. It is a much lighter version of the push up and focuses on upper body strength.
Reverse Straight Leg Raise
This is a simple leg exercise that can be done while lying down. You simply bring your knee toward your chest and return to the original position.
Curl-Ups
This is another exercise that can be done while lying down. It is a much lighter version of the regular sit-up except you do not pull your body all the way up. Simply lift your shoulders off the ground and return to the starting point.
Back-Extension
This is done while lying on your stomach. You raise your head while slowly arching your back, pushing up to your elbows, and return to the starting point.
Light Dumbbell Exercises
You can also exercise with dumbbells that are less than five pounds. You can focus on maintaining your upper body strength without putting pressure on your legs.
If you feel any pain or discomfort while performing any of these exercises, stop immediately. All of these exercises (and any other you choose to perform) should be done after consultation with your surgeon.
Returning to Strenuous Activity
Before you return to the gym (presumable after six weeks or as advised by the surgeon), make sure your body can handle strenuous activity. Test yourself out by doing stretches and slightly more rigorous exercises. If there is still pain or swelling then stop immediately. Avoid contact sports or any situation where you can be hit or hurt for four to six months after surgery.