Any mother can tell you that pregnancy and childbirth can have a significant impact on the body, affecting the breasts, tummies, legs, and more. Even the healthiest regimen of diet and exercise can't undo the resulting changes to your physique and many mothers find that regaining their pre-pregnancy, toned and tight tummy is virtually impossible with exercise and careful eating alone. When a mother reaches the point where she has done all she can through natural methods, she can turn to the services of a cosmetic surgeon who can help her achieve that pre-pregnancy body she is after through a mommy makeover.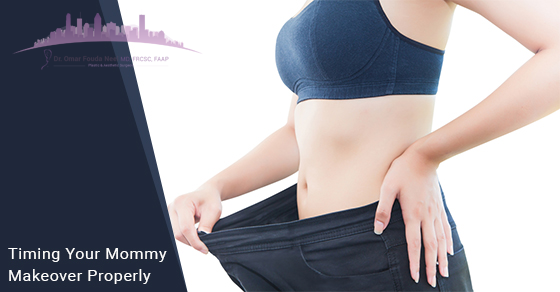 A mommy makeover is a combination of cosmetic procedures designed to correct the changes caused by pregnancy and breastfeeding. Typically this treatment plan combines a breast augmentation and/or lift; tummy tuck; and liposuction into one procedure. This has the benefit of allowing mother's to recuperate from all procedures at once, reducing their total healing time greatly.
New mothers may find that they are eager to get under the knife as soon as possible in order to regain their previous fitness and appearance of youth. It is important, however, to ensure that you do not undergo this procedure without careful consideration to your future plans.
Before opting for a mommy makeover, here are some important questions that you should answer:
     
Will I want to have more children in the future?


While a mommy makeover does not specifically prevent you from having children down the road, it is a good idea to finish your family before undergoing this operation. This is because further pregnancy will have a large impact on the results of your mommy makeover, possibly leading to the need for further work to be done. For the longest lasting results, wait until you are sure you do not want more children.
    

Do I want or need to lose weight?


If you have not already reached your goal weight, it is best to focus on weight loss before undergoing cosmetic procedures. Any weight gain or loss following a cosmetic procedure can alter the results and may leave your dissatisfied with your final appearance. It is best to reach your ideal weight, and keep it stable, before investing in cosmetic treatments.
    

Do I have time to properly recover from the procedure?

Being a new mom can be a busy, tiring, and stressful time and escaping to have a little work done can be quite tempting but it is important to remember that you will need sufficient time to heal and recover after the fact. You will need to have a caretaker to help you out for at least a few days and will be advised not to lift heavy objects (including toddlers!). If you suspect that your recovery will be frequently interrupted by your children, it is best to wait until they are old enough to handle your convalescence better.
For more information about when you should start considering a mommy makeover, contact our team directly!