A great sculpting tool for anyone seeking a more toned appearance, liposuction is loved by Montreal patients as well as men and women around the world. This is because it allows patients to get rid of those last stubborn pockets of fat that ruin an otherwise toned, healthy physique. In fact, even body builders have been known to use this cosmetic procedure to achieve their goals.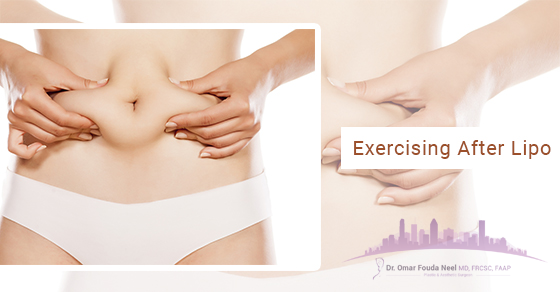 However, liposuction is not a weight loss method and surgeons often recommend that their patients spend some time exercising and dieting to achieve their goal weight prior to the procedure. There are a number of reasons for this, but the main motivation of surgeons recommending weight loss before liposuction is to instill healthy lifestyle values in their patients before they go under the knife, or, in this case, needle.
Regardless of whether or not you exercise regularly before your procedure, it is extremely important that you do so afterwards. Not only can fat come back if you do not maintain a healthy lifestyle, but it may migrate to other parts of the body, and this is where the real danger lies: studies have shown that fat distribution in those who have undergone liposuction is often very different from that of people who have not had the procedure. Specifically, patients of the liposuction procedure who do not continue to exercise may experience an increase in visceral fat- the fat that forms in between organs deep within the abdomen. This fat is potentially much more dangerous to a person than regular surface level fat and can contribute to an increased risk of heart disease and diabetes.
Patients seeking to undergo liposuction treatments should not take this as a reason to reconsider as regular exercise can counteract this fat growth and prevent unhealthy side effects.
Researcher Fabiana Braga Benatti, PhD, of the University of Sao Paulo in Brazil says, "If someone chooses to undergo liposuction, it is very important, if not essential, that this person exercises after the surgery." For many patients, this is a non-issue as their health lifestyle of regular exercise is more than enough to combat the growth of dangerous visceral fat.
A study of 36 women in Brazil found that a workout three times a week consisting of a five minute warm-up, strength training, and up to 40 minutes of cardiovascular exercise was more than sufficient to prevent weight gain and the formation of visceral fat.
For more information, contact the office of Dr. Fouda Neel today!