With so many options on the market for facial rejuvenation, it can be hard to even know which procedures to ask about when you go in for a consultation. While most cosmetic surgeons will work with you to ensure you get the correct procedure to achieve the results you want, sometimes patients come in insisting that they want Botox injections when they would really be better served by a traditional facelift.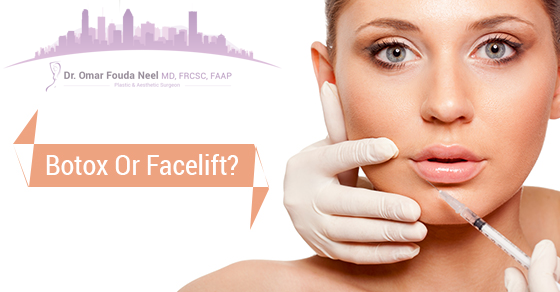 In order to help these patients figure out what they need, we are going to take a look at these two treatments, how they work, and what they can offer you.
Botox
One of the most highly sought and well-known injectables on the market, Botox is a neuromuscular toxin used to treat active facial lines. It's injected directly into the areas of the face where fine lines and wrinkles are known to form – commonly around the mouth and eyes – in order to prevent the muscle movement that causes them. Facial expressions are not affected by a skilled application of Botox, rather it produces subtle, surface changes that prevent lines from forming.
Botox is best used on patients with healthy, elastic skin and small wrinkles beginning to form around the corners of the mouth and eyes. Botox cannot be used to plump the skin, treat sagging, or restore lost volume.
Facelift
A facelift is a surgical procedure used to treat sagging skin, small lines and wrinkles, loose skin on the neck, and shifting pockets of fat. It's the only truly comprehensive way to remove the signs of aging and is the best way to remove excess skin that has lost elasticity.
Providing long-lasting results, facelifts ensure that even once the effects of aging begin to catch up with you again, you will still look up to 10 years younger without additional work. When performed by a skilled surgeon, the results of your facelift will be completely natural in appearance. Because this procedure is the only real way to treat sagging, loose skin in the face and neck area, it remains an extremely popular procedure with older women and men across the Western world.
Which One is Right for Me?
Determining which procedure you should seek depends greatly then on the health and elasticity of your skin. If you skin remains highly elastic and you are not suffering from sagging jowls or drooping eyebrows, you can likely benefit from a Botox treatment. However, if your skin has lost much of its elasticity and you are looking for more dramatic results, you will likely want to opt for a facelift.
For a more personalized answer, contact Dr. Fouda Neel today. You'll be able to get a private consultation so our expert staff can determine what will be best for you.