While there are many alternative treatments available to restore plumpness to the cheeks and lips or reduce the appearance of fine lines and wrinkles, the only real way to remove all the signs of aging from the face is to undergo a traditional face lift.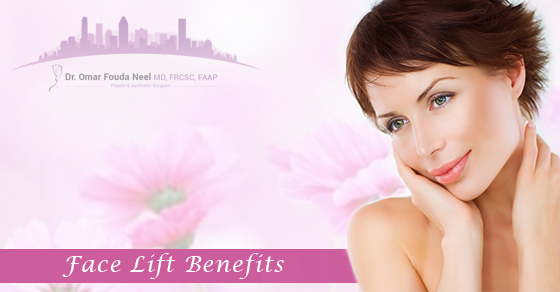 Facial fillers are great for subtle improvements and adjustments before the effects of aging become too pronounced, but at some point it becomes necessary to remove excess skin and tissues in order to create a smoother and more youthful appearance.
Long-lasting results

While time will continue to have its effect on your skin following a facelift procedure, these effects will occur more slowly. Even once age begins to show on your features again, a facelift will help rejuvenate a youthful, natural look. Additional procedures can also be performed as age begins to catch up with you again.

Correct sagging skin

The only way to correct sagging skin that has lost its elasticity is to remove it. While injections and fillers can plump up an area to restore some natural fullness, they cannot fully restore elasticity and youthfulness to skin that has begun to sag. In order to improve the appearance in these cases, the skin must be removed and tightened before fillers and Botox treatments can be used to plump the facial features and prevent new wrinkles from forming.

Natural looking results

Gone are the days of the stretched, gaunt appearance long associated with the traditional face lift: Thanks to improved technologies and better understanding of the skin, modern cosmetic surgeons are able to pull the skin tighter to achieve a natural, youthful, and beautiful appearance. By combining a facelift with other procedures, a talented surgeon can achieve completely natural results that make you look ten years younger without looking like you have had work done.

Dramatic results

Many patients seeking subtle improvements have found that fillers and injectables can achieve their desired results, but those seeking a more dramatic improvement may be left wanting more. A face lift is the perfect way to create a dramatic change in the appearance of the face by removing jowls, plumping and lifting the cheeks, and correcting sunken and sagging tissues around the eyes. This creates a more complete finished result that will last for many years to come.

Improved confidence & self esteem

Many women and men in the Montreal area have found that a traditional facelift not only improves their appearances but also their confidence and self-esteem. Nobody likes to look tired and run down and feeling that we are not looking our best can have a significant impact on our mood and relationships. By undergoing this procedure, most patients find they are filled with renewed energy and the confidence to achieve their goals in life.