There are four main reasons why I believe Hyalorounic Acid Fillers (HA fillers) are the best kind of soft tissue filling material (which include many brands some of which are Perlane, Restylene, Restylele fine lines, juvederm, juverm ultra and ultra plus as well as juvederm Voluma and volbella).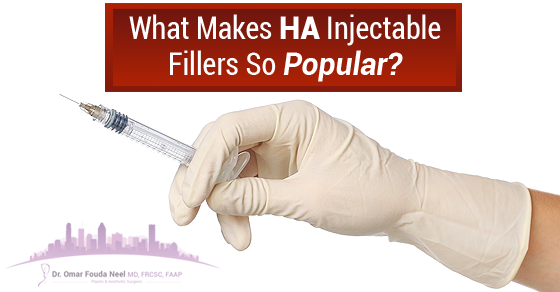 They all have continued to be such popular treatments for both men and women over the years because:
The injectable filler treatment requires virtually no downtime. After receiving HA filler injections, most patients are able to resume their normal daily routines almost immediately.
As a nonsurgical treatment, HA injectable fillers are relatively inexpensive when compared to more extensive, surgical rejuvenation procedures.
HA injectable fillers truly do what they are advertised to do. In the right candidate, these filler treatments are very effective at restoring volume to targeted facial areas and achieving a smoother look with fewer lines and wrinkles.
HA injectable fillers are reversible. In the rare cases where a patient may be unsatisfied with a result, the HA filler can be 'dissolved' with a simple procedure.
If you are contemplating receiving dermal fillers, I recommend coming for a consultation to determine whether or not HA injectable treatments are the best fit for your specific needs. While HA injectables can be very effective, you may be a better candidate for another Non-surgical treatment, or even a surgical procedure.
Patients seeking injectable fillers also commonly benefit from injectable neuromodulators such as Botox or Dysport, as well.
A board-certified plastic surgeon like Dr. Fouda Neel will have the skill and expertise necessary to address any aesthetic rejuvenation need you may have, whether it be through non-invasive, minimally-invasive, or surgical means.
About Dr. Fouda Neel
Board-certified by the Royal College of Physicians and Surgeons of Canada, Dr. Fouda Neel completed his training in Plastic and Reconstructive surgery at the prestigious McGill University training program in Montreal. Subsequently, He enhanced his expertise by pursuing three different fellowships in facial and breast aesthetic surgery.
He offers a full range of plastic surgery options for facial rejuvenation, breast enhancement, body contouring, and skin renewal, as well as a number of non-surgical cosmetic enhancement treatments. Dr. Fouda Neel is an Assistant professor at McGill University and is an Attending staff at McGill University Health Center.