Many men and women come to Dr. Fouda Neel seeking injectable Cosmetics (Botox, Dysport, HA fillers) as an option for nonsurgical facial rejuvenation.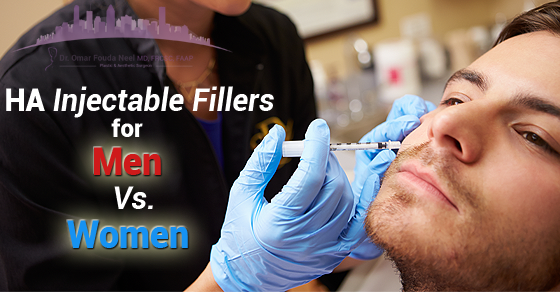 HA fillers included among the available injectable treatment options at our practice are:
Juvederm, Juvederm Ultra and Ultra Plus
Juvederm Vluma
Juvederm Volbella
Restylene and Restylene fine Lines
Perlane

For both men and women, the most common areas in which HA filler injections are administered include the nasolabial folds, lips, marionette lines, lower eyelid bags, and cheeks. Although both genders receive these treatments to restore volume and diminish lines and wrinkles in the aforementioned targeted areas, the driving factor for receiving these popular injections, as well as the treatment itself, tends to vary among males and females.
Injectable Fillers for Men: 
Typically, men inquiring about HA injectable fillers are interested in diminishing signs of aging for work-related purposes, whether it's to gain employment or to stay competitive in the workplace among their younger counterparts. There is also a significantly growing acceptance for men to correct age-related issues via rejuvenative treatments, which has led many to consider HA fillers.
Regarding the treatment itself, most men come in with a single specific area they wish to target, and they generally require more filler solution for the given area than women do in order to successfully attain results.
Injectable Fillers for Women
: Women typically request HA injectable fillers for a variety of cosmetic reasons, as they are often more cognisant of facial aging and desire to maintain a youthful facial aesthetic for all intents and purposes. For the most part, they tend to want a more comprehensive injectable treatment (compared to men), which often includes addressing multiple areas of concern rather than a single specific area. Additionally, women generally require less filler solution than men in order to achieve optimal results.
Combination Therapy with Neuromodulators: 
Fillers frequently are combined with neuromodulators such as Dysport or Botox to provide a multipronged approach to facial rejuvenation. This approach, sometimes referred to as a 'liquid facelift,' can provide excellent enhancement of the face without the need for surgery.
About Dr. Fouda Neel
Board-certified by the Royal College of Physicians and Surgeons of Canada, Dr. Fouda Neel completed his training in Plastic and Reconstructive surgery at the prestigious McGill University training program in Montreal. Subsequently, He enhanced his expertise by pursuing three different fellowships in facial and breast aesthetic surgery.
He offers a full range of plastic surgery options for facial rejuvenation, breast enhancement, body contouring, and skin renewal, as well as a number of non-surgical cosmetic enhancement treatments. Dr. Fouda Neel is an Assistant professor at McGill University and is an Attending staff at McGill University Health Center.