What drives Dr. Fouda Neel in his vocation as a plastic surgeon? "For me, it's all about helping each person to discover what is best for them and will contribute to his or her quality of life," he says. "I pride myself on using proven modern techniques to enhance the beauty and confidence of my patients." And it seems his patients wholeheartedly agree. Dr. Fouda Neel was recently named Top Doctor on RealSelf, a go-to website for learning and sharing information about cosmetic surgery.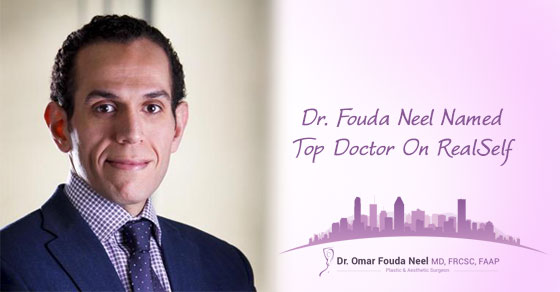 Source:twimg.com
RealSelf – A Source You Can Trust
RealSelf was created by Internet entrepreneur Tom Seery in 2005 after his wife had a tough time getting satisfactory information about a laser treatment.
With a couple of partners, Seery created an online community where reputable doctors answer users' questions and users review and rate their doctors, even sharing before-and-after photos. According to RealSelf policies, only doctors who meet the website's professional policies for board certification and licensing in their specialties are invited to participate in the Q&A and the website's local directories.
RealSelf goes a long way to ensure that users' reviews of doctors are fair and legitimate: to submit a review, the user must answer a variety of in-depth questions, provide pre- and post-op pictures, and sign off on identity certification. Submitted reviews also undergo a moderation process, and only those that meet RealSelf's community guidelines are published.
This attention to integrity and veracity of both doctors and users active within this online community has paid off – the site boasts 3 million unique visitors a month and is doubling its audience year-over-year. The website has been referred to as a reputable source of information about plastic surgery by the media, including Time and ABC's Good Morning America. It has become the most respected source of plastic surgery reviews online today.
What does it take to become RealSelf's Top Doctor?
Being awarded RealSelf's Top Doctor status is quite an honor. It is given only to doctors who achieved high patient satisfaction as reported in RealSelf reviews, who are very active in engaging with users and advising them about aesthetic medicine and plastic surgery, and who got a high quotient of favorable feedback on their professional answers. And the award is rare – RealSelf Top Doctor status is awarded to less than 10% of the RealSelf doctor community.
RealSelf's Top Doctor award is the most recent award and recognition among many that Dr. Fouda Neel has received in his career, including a 2010 Best Case Award, Upper Extremity Reconstruction from Mayo Clinic/Chang Gung University Reconstructive Microsurgery Symposium, and 2010 "Outstanding Resident/Fellow Teacher Award " from the division of Plastic Surgery at McGill University. The RealSelf Top Doctor award, however, is important on another level because it is based on Dr. Fouda Neel's patients' actual reviews and rankings – an indisputable "proof-is-in-the-pudding" testimonial to his abilities as a plastic surgeon.
Congratulations to Dr. Fouda Neel on his accomplishment!