The decision to get plastic surgery is one of the biggest decisions a person can make. Choosing the right surgeon for the job is just as important as deciding to get it done. The future of your appearance is literally in his or her hands, which is why it's essential to think carefully when choosing your surgeon.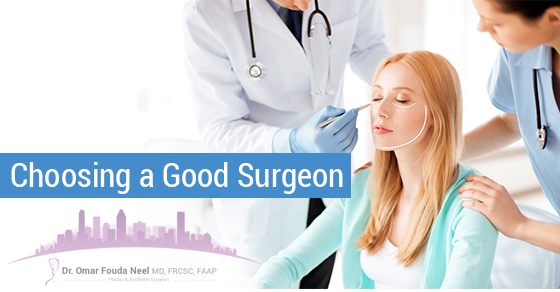 If this is your first time undergoing cosmetic surgery, the whole process can seem a little overwhelming! What signs should you look for? How do you tell who is reputable?
Board Certification
This is one of the most important things to check before choosing a surgeon. Membership in the Royal College of Physicians and Surgeons of Canada ensures that a surgeon has achieved a high degree of training in their field of specialization.
Consultation
Actually meeting a surgeon is a good way to make sure that you and the surgeon are a good fit. Book a consultation to talk to a potential surgeon before you commit to the procedure.
Experience
Some surgeons will be more experienced with some procedures and less experienced with others. When you are meeting with a potential surgeon, ask about their experience with the particular procedure that you are interested in.
Beware of "guarantees"
When you are talking to a surgeon about your procedure, they should be honest about any risks or limitations. If they make wild guarantees about perfect results with zero risk, that is an indicator that they are being dishonest.
Accredited Facilities
Not only should your surgeon have credentials, but the facilities should, too. Make sure that the clinic is accredited by Accreditation Canada. This guarantees that the facilities operate with a commitment to safety and quality.
Hospital privileges
Find out if the surgeon has an office or admitting privileges with a nearby hospital. If there is a complication with your surgery, a smooth transition to a hospital helps maintain an uninterrupted high standard of care.
Recommendations
If you know friends or family that have had similar procedures to the one you are considering, ask them about their experiences with their surgeons. Your family physician is also a good source of knowledge about reputable surgeons in your area.
Low-pressure consultation
A good surgeon will have knowledgeable advice about which procedures can help you achieve your goals. But they should not be pushy or try to pressure you into paying for a procedure that you do not want or need.
If you're looking for an experienced and valued surgeon to perform your upcoming cosmetic procedure, contact Dr. Fouda Neel today!